Wunky Zine #2 Interview: Is/Is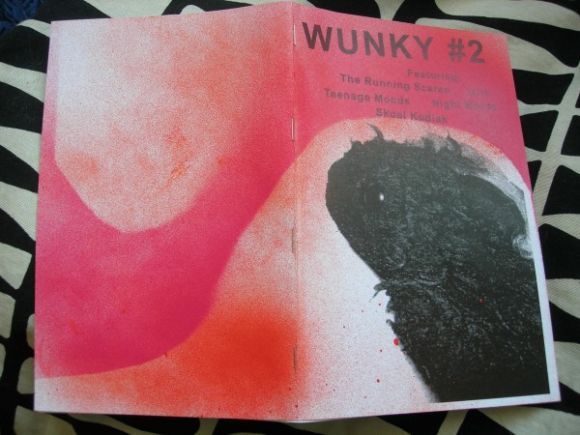 We are excited to again bring you the electronic version of the interviews from the locally created Wunky Zine. Erica Krumm is back with a 2nd edition of the great Zine (the first edition can be found HERE) that finds her chatting with some really great local bands.  Read the interviews all week and pick up the Zine for only $4 at Treehouse or Yeti Records and support our local scene!  Check back tomorrow for her interview with Running Scared.
____________________________________________
May 11, 2011
On a beautiful spring night, I showed up at the Hexagon Bar to meet Sarah R (vocals and guitar) and Sarah N of Is/Is.  Mara (drums) lives in Portland. And Holly from Zoo Animal was filling in as their drummer for the night. Sitting out on the patio we talked a lot about cats and a little about touring and teeth, before I watched their totally dreamy set. The way these girls love each other, and the way that they are so excited about the music they're making is very awesome to be around.
___________________________________________
Sarah N- The red light is making me nervous.
Sarah R- Turn it around.
(Sarah N covers the red light of my tape recorder and we all giggle)
Erica- So you guys, your drummer moved to Portland, is she still technically in the band?
Sarah R- She will always be THE drummer in Is/ Is…
Erica- What's her name?
Sarah R- Her name is Mara… She is like, THE drummer, and we are going to be going on tour again and she always tours with us.
Sarah N- We are never going to record anything with anyone else. She'll always be the drummer on the recordings.
Sarah R- We went on tour with her in March and we did a west coast thing and as soon as we came home we booked some recording dates, so she's on everything that we've ever recorded.
Erica- You guys have released a few 7 inches, right?
Sarah R- We've done one EP and one 7 inch. We're working on a full length right now.
Erica- What is a common theme in your lyrics?
Sarah R- A lot of them are about what's going on with me in my life, but I try to make it sort of abstract so if you sit down and read the lyrics, it wouldn't really make sense to anybody but it makes sense to me. There's not really a specific topic I write songs about..I do sing about my cat a lot. (laughing) She's always there when I'm writing songs, you know?
Erica- Yeah, I get that your lyrics are a lot more poetic and not literal.
Sarah R- Whenever I write something that seems too literal I'm like, 'oh this is too easy for the listener, this is too obvious.'
Erica- Is part of it that you don't want to expose your feelings so much? Is it a way to protect yourself too?
Sarah R- I don't think so, I think it's just how I express myself in words.
Sarah N- I like how a lot of your lyrics are repeating the same thing over and over again but even though you're saying the same words, the words take on a different meaning as the song progresses with the music.
That's what I think is cool about your lyrics!
Sarah R- (laughing) Some of my new songs started out with just the music and then whatever phrase comes out of my mouth, I'll just sing that over and over again and re-write the lyrics later. It's usually a feeling.
Sarah N- Like a stream of consciousness.
Sarah R- Yeah.
Erica- What do you need to have on stage with you to feel comfortable playing a show?
Sarah R- Probably like, a few beers..
Sarah N- A few beers. I have this pick that I really enjoy using that the former bassist from the Warlocks gave me when we were staying with her in Austin for SXSW. It was a really cool experience, and part of it is that I really like the pick, she gave me a few of them, I can't use the same one forever, but, also part of it is that she gave it to me and I feel good when I use it. She designed them, it has an octopus on it.
Sarah R- Where was it when we stole a caution sign?
Sarah N- Oh yeah! The blackest beat! In Las Vegas.
Sarah R- We were in Las Vegas and we were walking down this strip and we stole a caution sign, like a yellow sign..
Sarah N- A wet floor sign.
Sarah R- A wet floor sign, and we were like clapping it down this strip, just making sounds and everyones like, 'Yeah!!' because Vegas is crazy, but we kept it, and for a while we would always put that on stage with us.
Sarah N- I feel like that can only be on stage with us when Mara is there.
Sarah R- Yeah, it's got good energy, Vegas energy. (laughing)
Erica- Did you play a show in Vegas?
Sarah R- No, we went on a road trip last September just for fun. We went to the Grand Canyon and the Badlands…
Erica- As a band? The three of you?
Sarah R- The three of us in a mini cooper. We didn't play any shows, it was like two weeks in a mini cooper with us and we went and saw all these things and we went to this music festival in Joshua Tree.
Sarah N- I think it was the most important trip of my life.
Erica- You probably bonded a lot?
Both- Oh yeah.
Sarah R- Three girls in a mini cooper for two weeks?! Driving across the country…
Erica- That sounds really awesome.
Sarah R- It was amazing!
Erica- You guys are on the Guilt Ridden Pop label?
Sarah N- yep!
Erica- So anything you release is…
Sarah R- Keith does all of it, yeah, he's awesome. He's helped us out a lot.
Erica- And Gospel Gossip is on Guilt Ridden Pop?
Sarah N- Mm hmm, we have three releases with [Guilt Ridden Pop]
Erica- (laughing) Did either of you have braces as a child?
Sarah N- I didn't
Sarah R- I did, and I still have a retainer.
Erica- You do?
Sarah R- Yeah, it's a permanent retainer and they wont take it out. I hate it so much and every time I go to the dentist, I'm like, 'please take it out!'
Erica- And they wont? Do they think your teeth will go back…
Sarah R- They told me they're going to get crooked again. I'm almost like, 'that's fine.' I really hate this thing.
Erica- Does it get in the way?
Sarah R- Food gets stuck in it constantly!
Sarah N- Eeew!
Sarah R- You have to use special floss.
Erica- Do you have a meal there right now that you can eat later? (laughing)
Sarah N- (laughing)
Sarah R- Mara had braces, too. Mara had braces for a lot longer than I did. I only had them for a year and Mara had them for like, five years. We met in middle school. We totally met in band class. I played flute and she
played saxophone.
Erica- Do you have any pets?
Sarah N- I have a cat.
Sarah R- Yeah, a cat.
Erica- What are your cats' names?
Sarah R- My cat's name is Nuni, and she's a tiny, tiny black cat.
Sarah N- My cat's name is Thomp Thomp and I found him behind the recycling. I was drinking Old Thompson whiskey and I decided it was time to take out the recycling, and I did, and I heard meowing from behind the
recycling bin and I moved it and there was this tiny ball of fur and he was so sick and his eyes were crusted shut and he couldn't open them. Now he's huge and destroys everything, but he's cool.
Sarah R- He's really cute.
Erica- What is something you dread about being in a band?
Sarah N- Loading!
Sarah R – Photo shoots!
Sarah N- Photo Shoots!
Erica- Loading and photo shoots?
Sarah R- I don't mind loading, it's like a workout.
Sarah N- But you don't load (laughing)
Sarah R- I don't load when I get too drunk (laughing)
Sarah N- Yeah, photo shoots.
Erica- Is it because you're uncomfortable in front of the camera, or is it more because you're like, 'shit, now I have to pose.'
Sarah R – I think it's the posing, and I get really nervous when I do interviews that are live on air. That makes me really nervous…because if you mess up, they're not going to cover for you, cuz everyones already listening to it. I've done things where it's like, you're live on the radio, and you're doing the interview thing, and they're taking pictures and video taping, whenever it's all of those things at once, but not in front of a crowd, you know, it gets really intense, or something.
Sarah N- I hate anything involving a camera. Video camera, still camera, I'm the most uncomfortable person ever, being recorded in any way, that's why I had to cover the red light. Being documented, being made permanent is… terrifying.
Erica- It's intimidating for everyone, I think.
Sarah R- I kind of like it!
Erica- O.k, Last question, What is your spirit animal as a band?
Sarah N- (laughing to Sarah R) It looks like you know! Will you tell me before you say it, cuz I have to agree..
Sarah R- I was just going to say, roamers.
Sarah N- Roamers! It's roamers! It's totally roamers.
Sarah R- Roamers are animals that you see that are wild animals that you don't see in the city.
Sarah N- It's when you, yourself are roaming and you see roaming animals.
Those are roamers. Like the buffalo.