Surfer Blood: Tarot Classics EP Review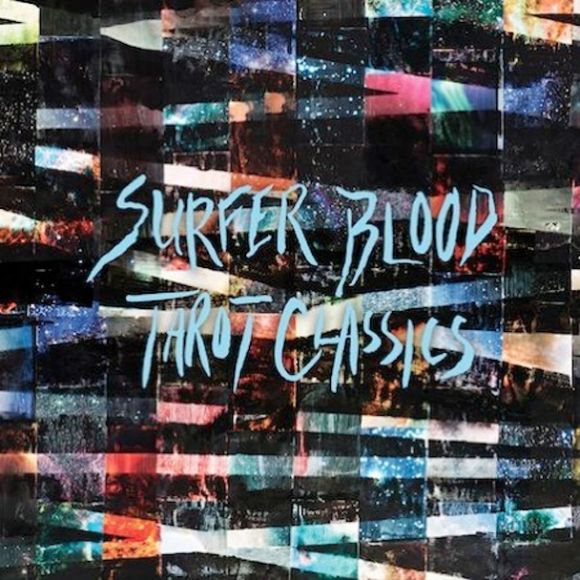 I have a (strange?) request for the West Palm Beach band Surfer Blood: can we make this a career thing? Although I would have preferred it if their new Kanine release Tarot Classics EP was instead an LP, it still does its job in further cementing the band as one of my favorite new acts of the last few years. There are some bands that you hope will have a long career with plenty of output. Surfer Blood is one of those bands for me. Tarot shows a band that understands the importance of playing to strengths and when and when not to add to their pre-existing formula.
The album is very short – only about 15 minutes – and it plays out like an extension from their early 2010 debut Astro Coast. They plays it safe for the most part, not stretching their sound too far away sonically from their debut, but they also craft songs with more pose and control. There's still plenty of big riffage as well. Since they nailed it so perfectly – both in style and mood – the first time around, what's the point in fixing it?
One of the striking differences on Tarot compared to Astro is the heftier production. The tones, layers and vocals all gain some added weight from their scrappier lo-fi predecessor. It's immediately apparent on the opener, "I'm Not Ready," a bouncy and catchy track that has the same kind of guitar riffs found on the debut. On the lush, slow-building track "Voyage Reprise," the band serves up a groovy bassline and twinkling synth melodies while John Paul Pitts delivers his best Morrissey. Stylistically, "Drinking Problem" is probably the most drastic move the band has made from the first album. It's a dreamy song with Pitts vocals turning into lucid echos and the band trading big riffs for the kind jittery percussion found on a song like "Take It Easy."
What I do miss on this release is the long-winded songs like "Slow Jabroni" and "Anchorage," (the latter being of the highlights of their catalog). These jam tracks are instead traded for tightness and brevity on Tarot Classics. I really enjoyed when the band stretched these tunes out to free-wheeling longer jams, but that's not really here. They definitely had the chance to do this on the outro of "Miranda" and"Voyage Reprise," but they could be saving the longer tracks for their next full length.
As far as lyrics are concerned, Pitts treads the same kind of water found on Astro Coast with songs about broken friendships, not getting through to those close to you and substance abuse. "Drinking Problem" and "I'm Not Ready" both deal directly with these subjects. The former he sings the stinging lines to a friend lost alone in their own substance, "Even though I can't believe you/ It's not like I don't want to/Anyone can make excuses/At least I know who my friends are." And on "I'm Not Ready" the aim is even more explicit when he proclaims, "Come on, man, you know that's not good for you/ Let me explain what everyone's already saying, you know I'm only looking out for you…And I'm not ready, to look the other way/ Take a look under the microscope, man, try to ignore the disarray."
Tarot is short, bright and to the point. It makes a perfect appetizer to the hopefully soon-to-be-released sophomore effort from one of indie rocks more exciting bands.
-Matt Linden