Lael Rockwell and the Meta-Fandom of Hip Hop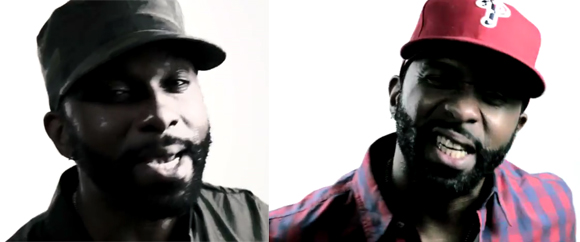 Most hip hop and rap artists, by their nature, appropriate previously written music. Beats are typically sliced out of old soul and funk songs; from older hip hop producers; or, in genre-defying moments, rock, pop, and electronica jams. Lael Rockwell's new version of "Ghetto Dreams," the lead single from Common's forthcoming album The Dreamer / The Believer (December 20), takes appropriation to a pinnacle of meta-ness. I like both versions of the song, but I don't know if I should.
One member of Roboh Productions, Rockwell is an emcee and DJ based in Sydney, Australia (via Liverpool via NYC via Cali). His version of "Ghetto Dreams," which originally features Nas and production by No I.D., is spliced with "Otis" by Kanye West and Jay-Z. (For reference, all of these song's videos are posted below.) What I find most impressive, however, is that Rockwell doesn't just rehash the four rappers rhymes—he wrote his own. It gets even better: They're actually good, and they riff on the same themes as the originals. And perhaps the most impressive, Rockwell mimics the flow of Common, Nas, and Kanye West on the sampled songs like a bangin' magpie. Check it out:
Rockwell's "Ghetto Dreams" is evenly cut in thirds, but you can hear samples from both songs playing concurrently through most of it. Dressed in camouflage fatigues, Rockwell apes Common in the first verse. Next he moves into Kanye-mode, red baseball cap 'n' all. He even inflects his voice on non-English words exactly like West does. (Ménage is such a 'Ye word.) Back to the No I.D. beat, but with a Nas flow—a little slower and muddier than Common's staccato word slinging. The whole production is a feat of creative repurposing. And as I've been obsessed with these songs lately, it's very cool to hear a new take on a now-familiar theme.
I first heard "Ghetto Dreams" on the Cornerstone Mixtape—a monthly promotional CD sent to music industry knuckleheads like myself. The version on there, however, was the "Cuttin it Up Throwback Remix" by a DJ that goes by the name The CEO. On it The CEO samples from Notorious B.I.G.'s "Juicy"—thematically similar to "Ghetto Dreams"—as well as old Nas beats. This is a different kind of meta more familiar to the genre, but fairly relevant to the discussion.
That all said, I have a few questions. As I've admitted on Reviler before, I'm something of a hip hop n00b—only "getting it" in the past year or so. To our hip hop loving readers, I beseech you to assist my education: Is Rockwell doing something normal, or is this the exception? Is this generally considered "legit"—or merely a rip-off? Does it matter that Rockwell is, in some ways, lifting from recorded songs wholesale? Or has he used the base material creatively enough to call this an entirely new song? What do you think? As promised, here are a few reference vids:
"Ghetto Dreams" by Common ft. Nas (original version)
"Otis" by Kanye West and Jay-Z
"Ghetto Dreams" by Common ft. Nas (CEO Cuttin it Up Throwback Remix)
—Will Wlizlo