Best of Reviler 2011: Songs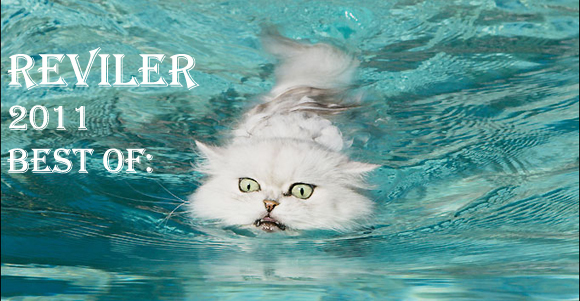 Snow is falling, people are spending money on crap they don't need and you are starting to dread all of the time you will be spending with your in laws in the next couple weeks. Cheer up. It is also that wonderful time of year where music sites like yours truly pontificate even more than usual, although in a more orderly and concise manner than we normally do (numbered lists!). For the next week we will be presenting you with a plethora of lists covering our favorite (and least favorite) things from calender year 2011. Today we look at our favorite songs from the last calender year. Tomorrow we will wrap up our 2011 coverage with our favorite albums that have come out in 2011.

Jon
1 Bill Callahan- Riding for the Feeling
2 John Maus- Believer
3 Chad VanGaalen- Can You Believe It?
4 Cass McCombs- To Each Man His Chimera
5 Unknown Mortal Orchestra- Nerve Damage
6 The Men- Think
7 High Llamas- Fly Baby Fly
8 Justice- Civilization
9 Ty Segall- You Make the Sun Fry
10 Black Lips- Family Tree
(Honorable Mention: Kurt Vile – On Tour, Cass McCombs – Buried Alive & Mariah, D. Charles Speer – Razorbacked)

Mike Wanton
1 B. O. B. –  "No Future" – The fact that it's an Odd Future diss track really isn't the story.  The drum beat is flat out magnificent.  The synth line over it is perfectly matched, and the rapping is brutally straight-to-the-point and lyrical.  It's not often these days that you hear something so basic and strong.
2 Tyler, The Creator – "Yonkers" – Speaking of bare-bones hip hop beats with rappers flat going hard over them, the song that spawned #1 on this list easily meets those standards too.  Pusha-T once talked about how when Mobb Deep's "Shook Ones Pt. 2" came on in the 90's in the Virginia Beach clubs, it was the song that made people start the fight with the guy they had been meaning to fight.  "Shook Ones Pt. II" has a bit more melody and the MC'ing is a different style, but "Yonkers" gives off a similar hardcore vibe.  More producers need to spend time messing around with harsh noise instead of techno pop.
3 Riff Raff – "Larry Bird" – I don't think there's a way to talk about this guy without bringing up his appearance.  Let's do it: this guy is really funny looking.  Combined with his flow, it's not easy to know what to make of him.  The video is a David Lynch whiskey glass full of "what the hell am I watching?" But the song is genius, whether it was stumbled into or worked towards.  Its hook was the best of 2011.  Though I'm not sure it's him on it.  And speaking of words, I honestly have no idea what he's talking about for the entire two-and-a-half minutes.  It's really better not to think too hard about this one.  If you have to, marinate on "Might pop up in Yellowstone/cuz I represent the South" for awhile.
4 Lil B – "Get It While It's Hot" – An immaculate, virginal east coast soul beat, that sounds like it's been aged for about ten years.  Based God takes the mic and does some state-of-the-art delivery that borders on traditional, but doesn't totally let you forget who's rapping.  It's something even people who can't stand him should be able to unenthusiastically respect, at least.
5 Skoal Kodiak – "Sciswell" – This song is an incredible hip hop beat waiting to happen, if it were in the right hands.  Easily one of the best live bands in America right now, as well.  Today Load Records, tomorrow golf with Ellen Page.
6 Spaceghostpurrp – "Captain Planet" – It's pretty commonplace to hear hip hop artists try to out-spacey each other nowadays.  Spaceghostpurrp could win that race rather easily.  But it's because his entire package is flat out different, not just the stoner elements.  This track is asleep, but it's oddly awake at the same time.   It's standing in your backyard at night, staring at the trees.
7 U.S. Girls – "State House (It's A Man's World)" – Like all unmistakably exquisite pieces of music, this is a seriously choice track.  It would probably be higher if it hadn't just come out, and I had more time to spend with it.  Could easily go on for another three or four minutes without turning into a death march, and I wish it had.
8 Frank Ocean – "Novacane" – Easily one of the more inspired choices for an R&B beat that I've heard in a long time, and Frank Ocean gets hyper visual in using it.  A really eloquent and powerful firsthand account of not being able to feel one's face.
9 A$AP Rocky – "Wassup" – "Peso" is worthy of mentioning too, but I prefer this by a hair.  A trendy sound perhaps, but Clams Casino does it with the craftsman nuance of an oak floor with hippie artisan food judiciously spilled all over it.  And A$AP is exactly the type of MC you'd want sweeping it all up.
10 Kurt Vile – "Puppet To The Man" – Going back to when Kurt started to get a little bit of attention a couple years ago, it wasn't exactly psychedelic to envision his songs one day being in credit card ads.  Lots of bands that make it are like that.  But what sets him apart is how he manages to be so naturally visceral while remaining palatable for lots of people.

Ali Elabbady (Background Noise Crew, Egypto Knuckles)
1.  Adele "Someone Like You"
2.  Beyonce "1 + 1"
3.  Big K.R.I.T., Eightball, MJG & 2 Chainz "Money On The Floor"
4.  Meek Mill & Rick Ross "Tupac Back"
5.  Jay-Z & Kanye West "N***** In Paris"
6.  Radiohead "Lotus Flower"
7.  DJ Quik "Boogie 'Til You Conk Out (Feat. Ice Cube)"
9.  Evidence "You"
10.  T.I. "I'm Flexin'" (Feat. Big K.R.I.T.)

Josh
1Holy Ghost! "Wait and See"
Synth pop at its ear candy best.  A standout from the bands excellent debut, DFA released LP.  Try getting this song out of your head.
2Beirut "East Harlem"
The most crushingly beautiful song Zach Condon has ever written.  A longing yet hopeful song that breaks your heart into a million pieces and then glues them back together.
3Mikal Cronin "Apathy"
Ty Segall buddy/acolyte Cronin writes an airtight fuzzy garage pop song that is more concise and catchy than anything Segall has laid to wax.  Well the rest of his debut LP let some to be desired, this song was a gigantic highlight and for a second made me think the student had caught the master.
4Ford and Lopitan "Joey Rogers"
After the awesome Games EP, the Ford and Lopitan LP was an overblown letdown, but "Joey Rogers" at least lived up to the hype.  Falsetto vocals, lush synths and a beat the rings until tomorrow.  It sticks to that part of your brain that doesn't generally get activated until the depths of a Saturday night.
5Dum Dum Girls "Coming Down"
Simple garage pop from a girl who knows how to do simple garage pop. Is it a Mazy Star rip off?  Of course.  Does it take away from the emotional brevity and beauty of the track? No.
6The Strokes "Under the Cover of Darkness"
A few, driving song from a band that otherwise proved their detractors wrong with their lastest underwhelming LP.
7Yuck- Rubber
Never quite bought into the hype of these 90's revivalists, but their distortion laded slow burner of an album closer seemed to hit the right spot.
8Ducktails- Killing the Vibe
The third album from the Real Estate guitarist displayed his most developed "songwriting," highlighted the best by the chilled out "Killing the Vibe." While I would entertain arguments that his Not Not Fun era instrumental jams were better, if he writes more songs like "Killing the Vibe" than I think I can be OK with his tranformation.
9Ry Cooder- No Banker
Music legend known for his amazing guitar work writes the best protest song of the last few years. As surprising as it is damning and a simply a fun song with a deadly serious message.
10Ssalvia- Best Lose the Dream
My favorite hypnagogic track of the year.  Ether based synth excursion that balances between outer space and a tight, focused sound as good as any other song this year.
(Honorable Mention- Panda Bear "You Can Count on Me" TV on the Radio "Will Do," Sleep Over "Romantic Streams")