Local Students Curate Day Party For SXSW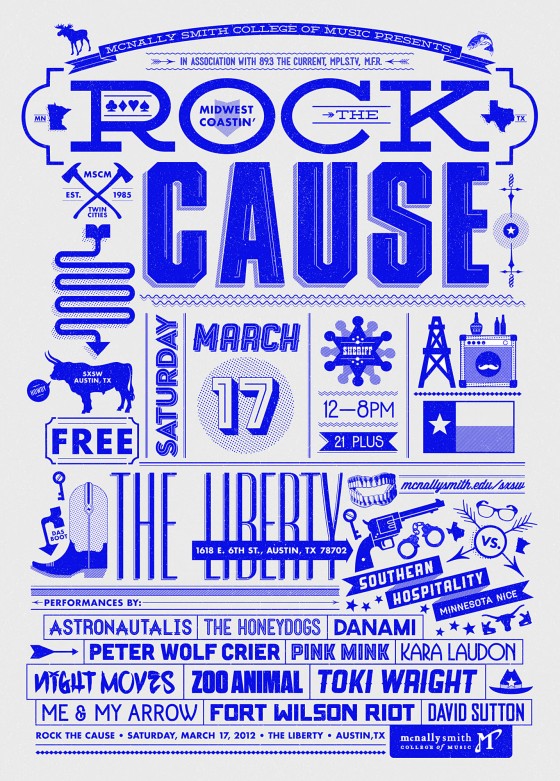 If you are headed down to SXSW this year and want to see some friendly faces, head over to the Liberty Bar on Saturday (3/17) for a McNally Smith student curated day party which is getting thrown in partnership with sponsors the The Current, MFR, Rock the Cause, MPLS.TV and Summit Beer.  Their lineup will include Astronautalis, Night Moves, Zoo Animal (whom I was under the impression broke up?), Peter Wolf Crier, Toki Wright, and more! Basically it sounds like almost every single TC band that is headed down there with the exception of the cream of the crop (in my opinion anyways) the Blind Shake.  Should be a good show anyways! And I'm sure it will be a good opportunity for Minnesotans to bond with other like-minded Minnesotans.  Just look for the party with all the pale people. Just kidding. No I'm not.
— Jon Behm
Here's the official press release from McNally Smith:
(February 20, 2012) St Paul, MN – Bringing a group of students on any field trip is dangerous.  What could be more troublesome is taking a group of aspiring music student on freewheeling tour of SXSW, dubbed the spring break of the music industry.  McNally Smith College of Music, increasingly interested in pursuing hands-on opportunities, is taking a leap of faith this March and bringing 10 students to Austin, Texas to take part in the massive and bustling conference.
Says Steve Cole, Chair of the Music Business Department, "Curricularly engaged, hands-on learning is simply no longer a luxury,  and it is a priority for all of our programing in the Music Business Division at McNally Smith.  We are committed to providing these types of opportunities for experiential learning to strengthen students' skills, and build their portfolios.  SXSW is a perfect example of this."
"It's kind of overwhelming." Says student Rob Frost. "Though this is what I came to school for, I never thought it would be this intense. Out of all the classes I've taken at McNally Smith this one is the most fulfilling.  Not only am I going to experience the event in full, I will get to be a part of the team that powers it."
SXSW is many things to many people.  The festival actually unfolds in three areas over the course of nine days: first it is a film festival with cutting edge premiers and panels about issues in film; then an interactive festival that famously birthed Twitter and finally a music festival with day long panels dealing with the various issues in music today, then it is showcases… lots of them.  Close to 7,000 bands play officially throughout the 6 days of music programing, but that says nothing of the unofficial parties thrown by megabrands such as Spin, IFC, Chevy and Pepsi.  The festival brought in close to a billion dollars last year and is increasingly one of the most important hubs for current music and media thought leaders.  Not exactly an easy transition from relatively sleepy St. Paul.
Class lead and music business faculty, Scott LeGere expounds, "SXSW is hard to imagine at a distance.  The conference has really grown in importance over the past 5-10 years.  I think our students will be in for some cultural whiplash when they get on the ground, but they'll be plenty busy attending panels, interviewing key decision makers and promoting the college's first ever day party."
To ready the students for said whiplash, weekly meetings are held on campus grounds.  Discussions include topics such as; social media, writing press releases, group planning, music sales and social trends, business ethics, and modern marketing tactics. In addition to these lectures students are given weekly assignments to put these discussions to practice.  Sending out emails, tweeting, and posting well thought out blog posts to their personalized WordPress accounts are among some of these assignments.
In wanting to ensure some sense of meaning and focus the college decided it was important to partner with someone with a non-profit mission,  an organization that could give a lens of advocacy to the class.  To that end the students aligned with St. Paul based, Rock The Cause (http://irockthecause.org/) to create a cause driven, student organized daylong concert promoting Minnesota musicians making the trek.
"As if taking a group of college kids to Austin wasn't enough.  We thought why not throw a massive party with a ton of area talent at a dusty bar," jokes Cole. "That being said, this is a chance to let them actually take part in a massive conversation about the future; to stake claim as to what values they want to see put forth as they define their community and this industry moving forward."
"Plus," adds LeGere, "it'll be fun."
The outdoor event takes place rain or shine March 17, 2012 from 12PM to 8PM at Liberty Bar (http://www.thelibertyaustin.com) in East Austin TX.  A coalition of some of some of the best Minnesota based buzz artists will make a live music call to action including: Astronautalis, Night Moves, Peter Wolf Crier, Me & My Arrow, Zoo Animal, Fort Wilson Riot, The Honeydogs, Pink Mink, Toki Wright and McNally Smith College of Music  Students, Danami, Kara Laudon, and David Sutton.