Reviler Rough Guide: The Knife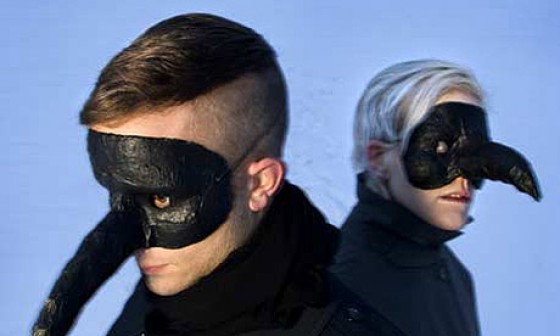 When I heard the revolving electronic improv troupe Basuketto would be joined TONIGHT by Maggie Morrison (of Digitata 'n' Lookbook) for a set of Knife covers, I couldn't help but look back at the amazing band. Despite not releasing an album since 2006, the band's influence has grown since their inception in 1999 and foreshadowed the influx of chilly electronic music that's currently in vogue. Olof Dreijer and Karin Dreijer Andersson (also in Fever Ray) really hit it big overseas with their excellent sophomore LP, Deep Cuts. And we Americans, always behind the curve, jumped on the bandwagon full-force with their 2006 LP Silent Shout.
The band makes chilly, distant electronic pop driven by Dreijer Andersson's vocals. Their albums are dystopian soundscapes wrapped lightly in a cloak of pop melodies, never fully going off the rails into noise music but always keeping a prickly exterior. The band clearly focuses on their studio sound, waiting until 2005 to play their first show and never making full-scale touring a big part of their identity. Despite releasing their solid self-titled debut LP and the amazing Deep Cuts and Silent Shout, it took Jose Gonzalez's meditative folk cover of "Heartbeats" to really spring the band into larger recognition. Even though the band received their biggest burst of publicity from someone else playing their music, their songs and LPs clearly stand for themselves. Listen below to tracks, mainly from Deep Cuts and Silent Shout, to get a feel for the band. If you like what you hear, dive further into the duo's warped theatrical pop catalog via their three LPs and their other work (including DVD collections of their visuals and some orchestra stuff).
Since it is a safe bet you won't be seeing the real deal anytime soon, head over to the RED STAG tonight for a chance to hear these songs in the flesh. Stick around for a second set of improvised ambient electronic music from the evolving Basuketto group.
Click below on the Spotify link to hear the following tracks from the band:
"Heartbeats"
"Pass This On"
"You Take My Breath Away"
"Silent Shout"
"We Share Our Mother's Health"
—Josh

Reviler Rough Guide to The Knife on Spotify