Live Review: Shabazz Palaces at Whole Music Club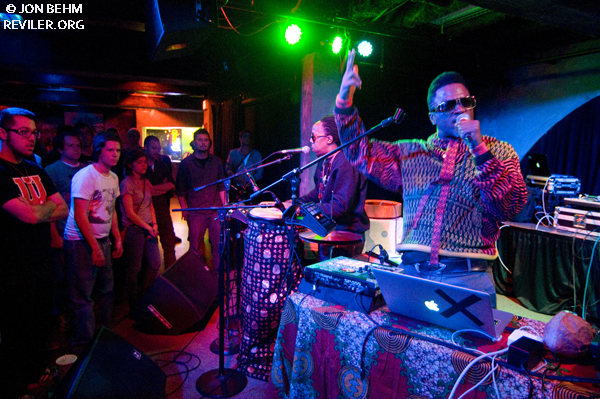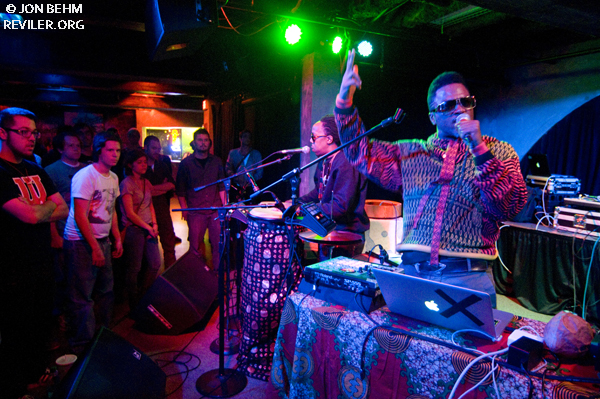 As someone who is lucky enough to go to lots of shows, I don't really get "excited" about concerts like I used to.  But when it involves someone I have never seen before, who also released one of my favorite albums of the previous year, all bets are off.  Such was the case Tuesday night for the set by Shabazz Palaces at the Whole Music Club at the University of Minnesota. The danger of such sky high expectations, coupled with my deep rooted cynicism, is that it can make a good show seem like a failure.  Despite me walking into the show with my Woody Allen level baggage, I left sweaty and exhilarated, with the group living up to, and even exceeding, my pre show expectations.
Playing material from an album as adventurous as Black U, artists could easily justify a set consisting of hitting play on a laptop and rapping over the beat, but the duo took no such shortcuts.  In a scintillating 75 minute set, Ishmael Butler and Baba Maraire conjured up their dystopian rap beats through an array of instruments and laid a colorful backdrop for Butler's smooth and gritty rhymes.  Maraire had a drum machine set up, but stuck mostly to a cocktail drum kit and some backup vocals, but not surprisingly Butler was the star of the show.  Setup behind an impressive rig, he manipulated the sounds for the melodies and the beats from a laptop, loopers and drum machines (not to mention the effect processor for his vocals), putting in an effort that had him sweating after a few songs.  Bringing home the point that this wasn't a canned effort, the duo struggled through some early set sound issues, but they didn't let that slow them down.  Playing Black Up standouts like "Swerve… The reeping of all that is worthwhile (Noir not withstanding)"  "Are you… Can you… Were you? (Felt)" and "free press and curl" alongside a few older cuts and some non-album tracks (including the grimy "Bop Hard") the duo simply did not let up for the entirety of their set.  In addition to the chest thumping beats and the warped pop melodies, the group even went as far as to choreograph some dance moves, which were a funny addition to the very serious set.  Many in the crowd looked genuinely torn between dancing to the grooves, letting the hypnotic songs fuse into their brains or just staring in awe at the whirlwind action happening on stage.
You could have separated Butler's intricate rhymes and the duo's innovative beat making and I would have liked them on their own, but together they were simply amazing.  The group had the sold out crowd wrapped around their fingers and proved that they are a band that can deliver in the live setting. In an era of over-saturation and generic crap getting mainstream attention, seeing Shabazz Palaces Tuesday night was a reaffirming lesson that music can be enjoyable, innovative and thought provoking all at the same time.