Best of Reviler 2011: Albums (Part 1)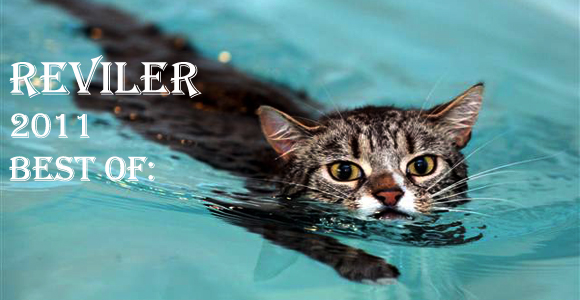 Snow is falling, people are spending money on crap they don't need and you are starting to dread all of the time you will be spending with your in laws in the next couple weeks. Cheer up. It is also that wonderful time of year where music sites like yours truly pontificate even more than usual, although in a more orderly and concise manner than we normally do (numbered lists!). For the next week we will be presenting you with a plethora of lists covering our favorite (and least favorite) things from calender year 2011. Today we culminate the festivities with our favorite albums of 2011.

Will Wlizlo
10. Ghostfunk by Max Tannone – What could be better than Wu-Tang's Ghostface Killah mashed-up with '70s West African psychedelia? Not much, people. Not much.
9. Beautiful Imperfection by Asa – Parisian pop songstress Asa traces her musical and hereditary roots back to Lagos, Nigeria—but also bares influences of dub reggae, ska, R&B, and lounge.
8. The Magic Place by Julianna Barwick – This album is the definition of serenity. Barwick loops her voice, transforming herself into an entire choir of rhapsodic angels.
7. Selva Surreal by Buffalo Moon – All Reviler readers are going to be pretty familiar with this one, so I'll keep my words spare. South American tinted psych rock from the Midwest.
6. Aesthetica by Liturgy – This widely theoretical riff on experimental black metal kickstarted a industry-wide discussion about the artistic merits of various metal genres—even landing a thought-piece in New Yorker magazine. Bold and unforgiving, incessant and insane, measured and melodic.
5. In Animal Tongue by Evangelista – Another haunting release by multi-instrumentalist and experimentalist Carla Bozulich. She takes off some of the harsh noisy edge for In Animal Tongue, substituting it with theatricality and more subtle dynamics.
4. Return of 4Eva by Big K.R.I.T. – A Southern rapper without the mindless tropes of his colleagues? Yes please. Introspective lyrics? Yes again. Minimal production and an affinity for bittersweet drone? Yes yes yes! Big K.R.I.T. sprinkles game wherever he goes, and Return of 4Eva is his magnum opus.
3. Iconography by Collarbones – What happens when you program an android to have a heart? It quits its job and cowers in its room with the lights off listening to Iconography by Australian glitch-pop duo Collarbones, all the while daydreaming of the lover that got away. This is electronica with blood, sweat, tears, and soul.
2. Ravedeath, 1972 by Tim Hecker – Hecker is the reigning king of electronic drone. This album is assembled from recordings of a gigantic, ancient church organ in Iceland and then run through all sorts of fun electronic effects and loops. The mood he creates is claustrophobic, pseudo-spiritual, and limitless.
1. We Are Renegades by Pharaohe Monch – A literature nerd's rapper, Pharaohe Monch released this excellent album of booming, rock-n-roll sampling, socially progressive hip hop back in March. The beats are solid and the rhyme schemes are complicated, smart, and rewarding. On a personal note, this is the first album that really convinced me that rap was worth listening to (hey, we all have our hang-ups). Through this tiny window, I've been opened up to some of music's most underappreciated lyricists: Dilated Peoples, Inspectah Deck, Nas, Mobb Deep, and, I'm sure, many I've yet to discover.

Mike Watton
1.  Kurt Vile – "Smoke Ring For My Halo" – Kurt Vile is probably going to be sticking around in a prominent role as long as he wants to.  He's a luxurious-haired beast who absolutely rocks people for a living.
2.  Lil B – "I'm Gay (I'm Happy)" – This was shocking to me, I really didn't think of Based God as much more than a sometimes-interesting novelty before this came out.  This proved he can be more than that when he wants to.  And any hip hop album that samples Slowdive and The Lost Boys theme gets bonus points.
3.  Big K.R.I.T. – "Return Of 4Eva" – Definitely the most intriguing prospect of all the young hip hop artists breaking out right now.  He's similar to how I felt about Jay Reatard writing rock songs, in that I think K.R.I.T. just has a very deep understanding about what makes hip hop good.
4.  U.S. Girls – "U.S. Girls on KRAAK" – Meghan Remy's project U.S. Girls really deserves more attention.  I can't see it being used on Sportscenter, but "State House (It's A Man's World)" is the perfect example of why she should be recording in the same studio as Posion, if that's what she wants.
5.  Off! –  "First Four EPs" – I'm cheating, but I did this list last year too, and "First Four EPs" dropped on on December 14, 2010, after I did that list.  For someone who loves early LA punk, this felt like the same pure barbarian technique that makes listening to early Black Flag's early records so emotionally enlightening.  Having Keith Morris obviously helps that, but a special shout out to the guitarist as well.  He's a man with badger spirit.
6.  Radiohead – "King Of Limbs" – This underground band from Grand Rapids, Michigan might be a breakout band for the coming decade.  Don't be surprised if they're headlining the 7th Street Entry sometime in 2012.
7.  Spaceghostpurrp –  "Blvcklvnd Rvdix 66.6 (1991)" – It's way too rare for my taste that I listen to a hip hop album and find myself thinking about how bizarre it is.  Apparently this guy is about 19, he's from Miami.  And for now at least, he could probably get a patent on his sound.
8.  Skoal Kodiak – "Kryptonym Bodliak" – It's really gratifying to see a Minneapolis band with roots in the Church scene get signed to Load and put out an album that rises to that occasion.  But this gets on the list on its own merits.  In a lot of ways they developed their own sound right out of the gate after forming, and it's great they continued to develop it.  A lot of bands in similar Air Jordans never bother.
9.  Prurient – "Bermuda Drain" – I admit this is a bit of an oddity.  Not because the music is weird, which it is.  What's really odd about this one is comparing it to his previous output.  Prurient is Dominick Fernow, a straight up noise brother, who blasts through his live set with a really fun amount of feedback and screaming. Which is often followed by him getting extremely mad for some reason.  This album recalls Kate Bush, Nine Inch Nails, New Order and other things in that vein, but he doesn't really take his vocals with him out of the noise community.  With a talented traditional vocalist, this would be a pop album, but with Dominick, it's the family with the unkempt house at the end of the cul-de-sac that no one wants to drink with.
10.  John Maus –  "We Must Become The Pitiless Censors Of Ourselves" – I feel like I could make a very solid argument that this lo-fi pop stuff that gets a lot of press these days is more effective as tapes or CD-R's that few people get to hear.  It's so much more mysterious and alluring when you know next-to-nothing about the artist and the recording.  There's no question that adds something really interesting to the listening, even if it's snobby.  But, reality has taken things a different way, and John Maus makes a lot of great songs.  He deserves to be an accolade magnate.

Josh
1. Bill Callahan- Apocolypse
Funny, poignant, concise. The best, most profound work yet from one of our best living songwriters.
2. Shabazz Palace- Black Up
Space rap that latched to my brain from the first listen and still won't let go. The best mixture of the past and the future on a rap album I have ever heard.
3. John Maus- We Must Become the Pitiless Censors of Ourselves
An album that I thought would fade with time, but it really only has gotten better with each spin. Not a dud on the record, from the sweet ("Hey Moon") to the euphoric ("Believer") to the provoking ("Cop Killer"). While his live show was a little weird, the record takes the hypnogocic pop sound to its max, a level only matched by his buddy Ariel Pink.
4. Royal Headache- Royal Headache
Earnest garage rock done right. A record that is stellar start to finish for a young band that hopefully will be getting more recognition in 2012 and beyond.
5. Peaking Lights- 936
Chilled out dub pop from this Madison based couple that somehow burst through the haze into one of the surprise indie "hits" of the year. A great soundtrack to faded out summer nights.
6. Mist- House
Lots of good ambient synth records were released this year, but this album from the duo of John Elliot (Emeralds) and Sam Goldberg (Radio People) is the most confidant and fully developed of the many great choices. An amazingly confident and well realized effort.
7.Ty Segall- Goodbye Bread/Singles 2007-2010/Ty Rex/Live in Aisle Five
Serisouly, all four things he put out this year were awesome and well worth checking out. For the record, it was one LP, one live record, one compilation of singles and a six song Record Store Day exclusive of T Rex covers. No one does the volume, or quality, that Segall does year in and year out. If James Brown were alive and not frozen in a vault somewhere, I think he would have to arm wreslte Segall for the title of "Hardest working man in show business."
8. Clams Casino- Instrumentals/Rainforest
Clams Casino got more credit for his hip hop beats (especially his work on the A$AP Rocky mixtape), but his two releases under his own name were even more impressive. Instrumentals is a collection of his beats sans that rappers and Rainforest is his release on the Tri Angle records label that finds him a little more spaced out and synth heavy. Both are awesome and clearly show why he is such an in demand producer.
9. Wooden Shjips- West
Powerful guitar based classic rock driven by the spirit of classic Kraut rhythms. A true album in every sense, the kind of record that you want to drop the needle and let the deep grooves soak into you.
10.Run DMT- Dreams
One of the most interesting and compelling releases of the year, this tape only release features Run D.M.T's usual blissed out pop music intertwined with stories from someone telling their experince taking D.M.T. It is weird but somehow fits perfectly with the ambiance of the music.
Honorable Mention (Top 25)–James Ferraro- Far Side Virtual, Drive soundtrack, Tom Waits- Bad As Me, Cave- Neverendless, Forma-Forma, Keep Shelly in Athens- Our Own Dream EP, Mark McGuire- Get Lost/A Young Person's Guide to…, Oneohtrix Point Never- Replica, Pharohs- Uhh Uhh, The Field- Looping State of Mind, The UV Race- Homo, Gang Gang Dance- Eye Contact, Kurt Vile- Smoke Ring for My Halo, D Charles Speer & The Helix – Leaving The Commonwealth)
.

1.  Adele "21"
2.  M83 "Hurry Up, We're Dreaming"
3.  Jay-Z & Kanye West "Watch The Throne"
4.  Shabazz Palaces "Black Up"
5.  Bon Iver "Bon Iver"
6.  Panda Bear "Tomboy"
7.  Radiohead "The King of Limbs"
8.  Big K.R.I.T. "Return of 4eva"
9.  Killer Mike "Pl3dge"
10.  Evidence "Cats & Dogs"
.

1 Metal Mountains – Golden Trees
2 Brute Heart – Lonely Hunter
3 Lou Reed & Metallica – Lulu
4 Breatherholes  – Give It to U
5 Hatchback – Zeus and Apollo
6 Action Bronson – Dr. Lechter
7 Ice Ace – New Brigade
8 Tarwater – Inside the Ships
9 Danny Brown – XXX
10 Kate Bush – 50 Words for Snow