Live Review: Soundset 2012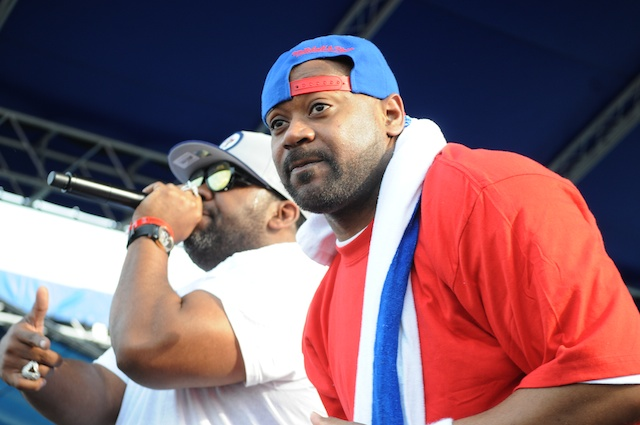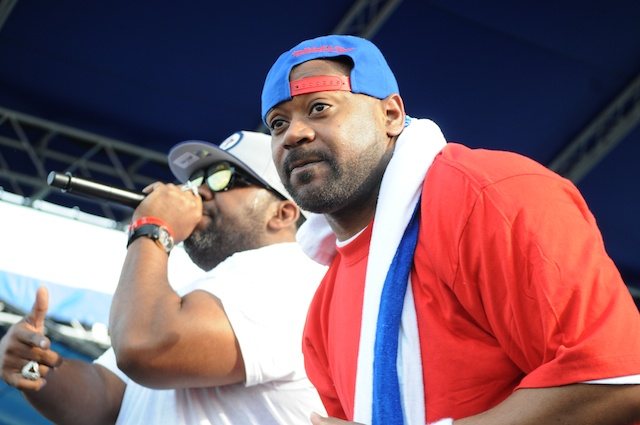 Up until the final meltdown, Soundset proved itself to be as well of run festival as had been advertised. There were two main stages that ran seamlessly, with not even a minute wait between the headliners, along with solid acts on the side (Fifth Element) stage. For those not interested in those stages, there was a B-Boy/B-Girl tent that hosted dancers and DJ's along with a car show, food trucks and a water area that quickly transformed in a giant slip and slide (see photos) as the day wore on. The artists ranged from gigantic international stars to local MC's, with everything in between hitting the stages over the sun scorched 8 hours the festival was running.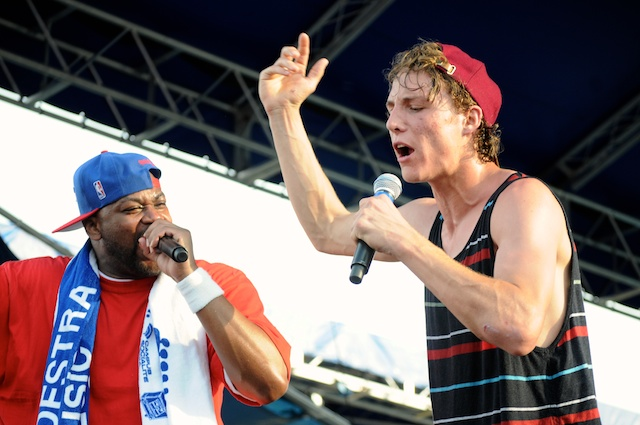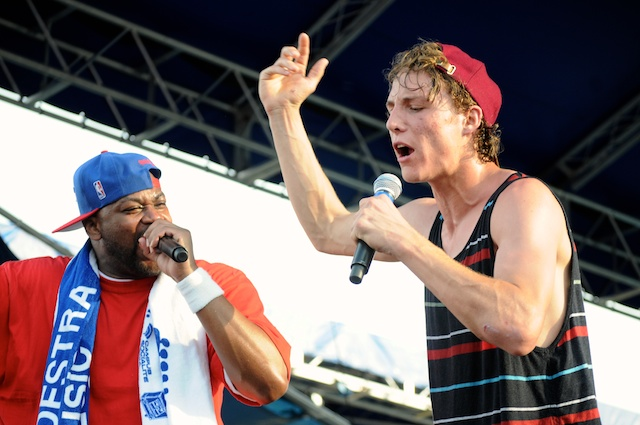 The weather ended up being a big part of the story, with the sweltering heat making the 20,000+ crowd into a sweaty mess. Some artists (Kendrick Lamar) used the heat as an excuse for the crowd not feeling their performance, while others (P.O.S) asked the crowd to give their last bit of energy before they "threw up and passed out" to have a dance party with him. Highlights of the afternoon strangely seemed to come all from the West stage, while for the most part when the East stage was hosting an artist I found myself with the desire to go check out the rest of the festival grounds. My favorite sets from the afternoon were Big K.R.I.T, Danny Brown, P.O.S and Ghostface & Raekwon. Big K.R.I.T was the artist I was most looking forward to seeing and proved himself ready for the big stage. With his debut LP coming out next month after a handful of well received (and awesome) mixtapes, K.R.I.T busted out jams both new and old while getting the crowd moving. Tracks like "Just Touched Down" and "Rotation" had the crowd, even under the 3:30 sun, going crazy. I have a feeling if K.R.I.T makes it back to Soundset again it will be at a much later spot. P.O.S went on after K.R.I.T (and before Ghostface & Raekwon) and didn't blink for one second surrounded by the impressive acts before and after him. Stef played some of the material from his first two albums, but brought out Astronautalis and Mike Mictlan to preview the bubbling electronics and dance ready jams (including the powerful yet fun "fuck your stuff") from his forthcoming LP. Danny Brown was the first act I saw, and set the stage for a fun afternoon. Playing material from his XXX tape from last year, Brown made me laugh many times as he explicitly described the sexual acts he has and/or will be performing to the gathering crowd at 1:30 in the afternoon. I am sure any of the parents dropping their kids off who caught a taste of Brown's set were impressed. Above and beyond his graphic rhymes, Brown has that much need charisma that helps get a crowd that is hot, tired and dirty to move around instead of simply putting their hands up at the designated moments. Ghostface Killah and Raekwon don't need me to tell you that they were awesome, as any fan of hip hop can tell you the body of work these two legends bring to the stage. The nice thing was that they didn't rest of their laurels (or in Kendrick Lamar's case rest of their belief that they are awesome enough that they don't need to try) and played a killer 45 minute set. They dug back into their own catalogs (hitting on Raekwon's Cuban Linx work and jams from Supreme Clientele for Ghostface) and giving ample time for Wu Tang material, including a stirring "I Can't Go to Sleep," a ODB montage and a funny stab at "Protect Ya Neck." The latter had the duo trying to find someone to rap Method Man and ODB's verses, with little success at first. I am not sure what they first 3-4 people were thinking, but they told Rae and Ghost that they knew the verses, got onstage, and were subsequently embarrassed. Free advice: If an artist asks "who knows this verse," and you do not in fact know that verse, do not raise your hand. They will pull you on stage and you will be summarily shown to the exit with you head hung low and your tail between your legs, resigned to be mocked by your friends forever more. When they did find a guy (pictured above….from Minot, ND!!) to do the verses, he hit it out of the park. Watching the surprised and happy looks on the faces of Raekwon and Ghostface, plus the "I just won the lottery" look from the kid while they traded verses, was one of the coolest moments of the day.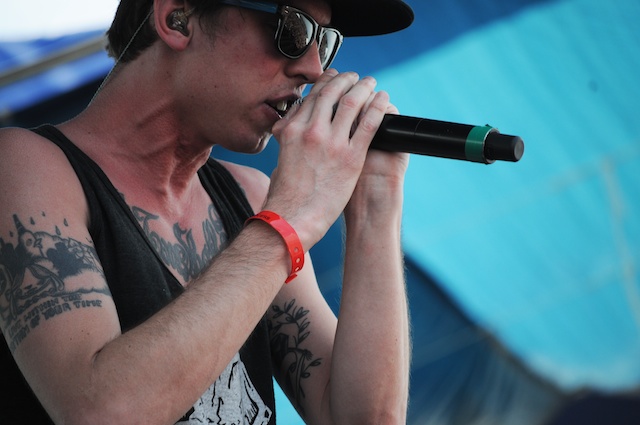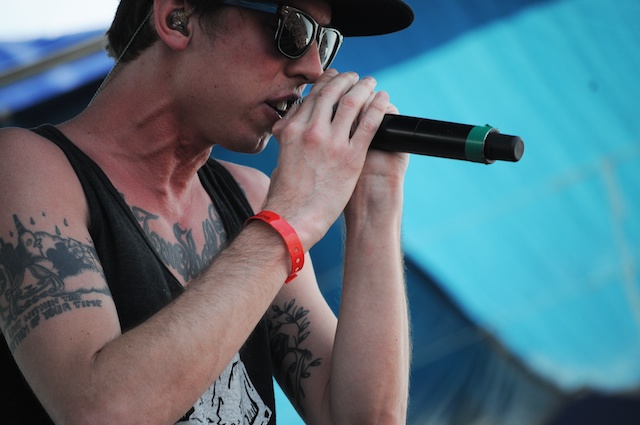 The East stage featured, to me, the kind of rap music that doesn't connect with me. I think calling it "emo" rap is probably lazy and will get people upset, but that is what Grieves and Budo and Prof are to me. I came in to their sets not feeling their work and left their live performance feeling the same way. It wasn't all bad news bears on the East stage though, as Evidence did a solid set of smoked out, old school hip hop, and one act from the West stage (Macklemore) was closer to the "we party and then feel sad" music that populated the East stage at the start of the day. As I have said a few times, Kendrick Lamar was underwhelming and then did something I can't stand, which is blame the crowd/weather/lighting/sound/etc on the lackluster response (his choice was the crowd and weather). Maybe people just aren't feeling it. Brown, K.R.I.T, POS and Ghostface/Raekwon didn't give the crowd a chance to sit back as their energy and showmanship were contagious. Lamar clearly has skills and needs to up his stage presence as he makes his move to the big time.  Lupe Fisaco didn't have that problem with most of the crowd, as people were really into his set, but I couldn't have been more disinterested. His blend of pop and stadium rap has always made him sound to me like he was trying to be the Black Eyed Peas of rap, and his big stage production didn't change that impression for me. At that point I was happy with who I had seen, so I had no problem watching others losing their shit when he played his hits like "Kick, Push," but it did less than nothing for me.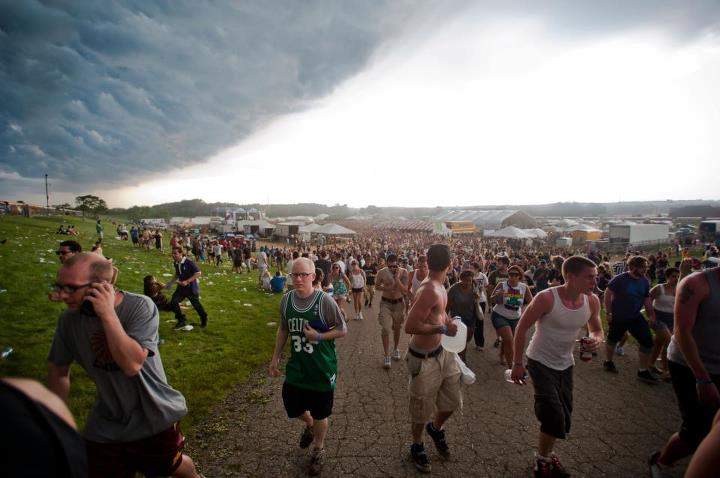 (photo from MN Daily)
After proving the ability to run an amazing festival, the wheels kind of fell part way through the Lupe Fiasco set when ominous clouds rolled over the concert grounds. Right about the time people around me were starting to say "those look kind of bad," Lupe said to the giant mass of people "there is a tornado warning." I don't think there ever was a tornado warning, but this sent waves of panic through the crowd as people (myself included) started getting the hell out of there. A concert promoter came on the mic to say "please leave in an orderly fashion, the storm is still twenty minutes away." This didn't help. As I stood by a fence trying to text my ride, I was pushed and knocked around by panicking people who were drunk, high and/or teenagers, some of whom were trying to lug entire cases of energy water they had grabbed from the exit. It was frustrating that "please leave" was the plan for severe weather from a festival that obviously had its shit together. This wasn't some county fair. It was bad for two reasons. The first was that if bad weather had come, those of us who didn't hear that we could go to the racetrack buildings were sitting in our cars and would have been sitting ducks and the second is that 20,000 people trying to leave out of one road meant that we sat in our car for almost two hours waiting to get out. Apparently no one was hurt, which was good, it just was a frustrating end to an otherwise well run and fun day.  Part of the reason I expected more from Soundset was that they proved over the course of the day that they were a fest that seemed to "get it" (having a solid EMT presence, a water station for free water bottle refills, smooth entrance lines, etc), so I expected a better run process for something as important as inclement weather. The early ending meant that for the first time in Soundset history Atmopshere didn't get to close out the show, but he brought his act to the First Avenue afterparty and played a set there later in the evening.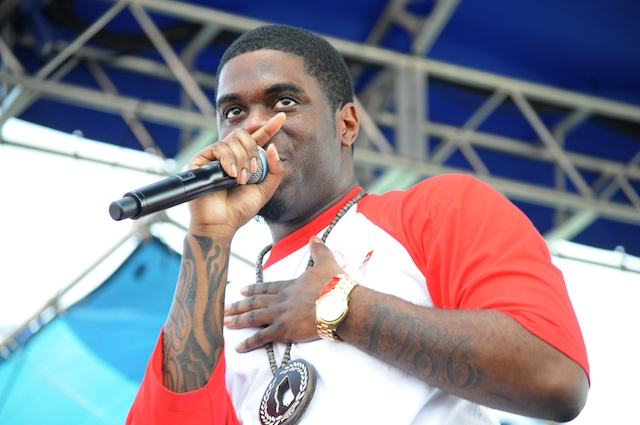 Overall, Soundset backed up all of the good things I had heard about it.  The main stage, featuring a who's who of "indie" rap music, ran smoothly and kept the hot and tired masses engaged for the full seven hours it was running, with Brother Ali proving to be an excellent host.  He even played a few songs from his forthcoming LP, which was a real treat.  The Fifth Element stage hosted the rising local talent (Audio Perm, M.anifest, Villa Rosa, etc) our scene and, while being a little sparsely attended, was a cool opportunity to see smaller acts on a sunny afternoon.  The whole production was impressive (save for the end) and showed that our local label is clearly on another level.  For any hip hop heads in the area, and especially fans of local hip hop, which really flexed its muscle, Soundset is a can't miss.