Interview: Guante talking with Dead Prez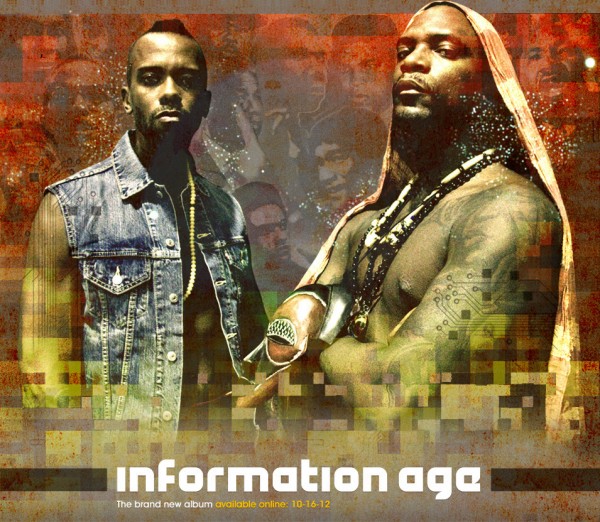 Dead Prez have a new LP out now titled Information Age, so in honor of their new release, we got our friend Guante (who has his own great LP coming out very soon) to ask the duo some questions.  You can find their conversation below and grab the new Dead Prez LP HERE
Guante : "Let's Get Free" is over a decade old. Listening to one's own past material is always a trip, so I'm very curious: looking back on it now, what do you like most about it? Is there anything you wish you had done differently?
M-1: I love that we able to capture the moment. I'd like to think of those songs as a musical documentary of the time period in our lives when we learned to fearlessly challenging the status quo options that were offered to us and our community. I listen back and hear the influence of other revolutionary minded hip-hop thinkers and spitters. I like that we didn'y know what would happen next but we knew we had to leave a mark in his/herstory. I wouldn't have done anything differently, although in hindsite our strategy had to be one of dual conscious; revolution political conscious AND capitalist music industry players.
STIC: I liked the creative process. We were inventing a new sound to complement our vision on each song and we were tapping into a new aesthetic. Digging through records for samples. Wu tang and mobb deep and PAC and biggie an all that good stuff was popping so the creativity was flowing in the ether.
I liked that we made the record we truly felt good about regardless of what wa going on in the industry.
I have no regrets about it. We did our best at the time. I'm always the one to say we can do better but I also appreciate the results of that period of work. It has given us a worldwide audience for over a decade.
Guante: You've always struck me as a group who really cares about who your audience is. Where a lot of artists maintain a "whoever likes it is my target demo" attitude, it seems like you're much more intentional. Is that accurate? Who are you hoping to reach with your music?
M-1: I definitely am conscious of the "dead prez audience" however I have found that audience is not as identifiable as one may think. For instance, when making LGF I imagined our music being an organizers soundtrack and even was able to test these ideas and soundscapes in situations that developed my political education. However, when LGF was released, we learned alot about marketing, promotion and even the economic realities that led to dead prez' immense White or other than Black audience which is definitely part of our core audience. At this point I am reaching for the ears of young change-makers, would-be progressives, students of hip-hop culture, gate-keepers and everyone in between. We all have a role to play in the future that MUST be made better than todays reality.
STIC: Not at all. We make the music as an expression of our creativity an whoever digs it resonates with it is what it is. It's impossible to target specific people because people are not simple and shallow an one dimensional. People are unique and dynamic. So u never know who will get into what u do and it's always fun to see.
Guante: What kind of role do you see art– hip hop in particular– playing in the Obama-age, the post-Occupy age, or just 2012 in general? Is there a specific role you'd like to play, or an overarching goal you have for this new album
M-1: Music can either be a diversion or distraction in the live of tomorrow's decision-makers. The Obama-Age is the same as the Bush-Age. I acknowledge that there are many artist who have chosen the path of social consciousness that are not on the radar of the "painstream/mainstream". Therefore independent media is more of a weapon than ever. Hip Hop for the most part is a part of the media which is the right-hand of the U.S. propaganda arm. I hope Information Age can be a part of the voices of discontent and new resolutions…that mean more than a vote.
STIC: Artist job is always to just express a creative vision. To offer inspirations and different perspectives and challenge the conventions. That's how I approach music. If it connects with anyone great if not as long as the artist vision was expressed then the artist has fulfilled their first job. Secondly, if the artist can speak to the human condition or life or to the universality of experience then I find a kinship with it and I can resonate with all types and genres of music. I just did a hardcore hip Hop album totally dedicated to health and fitness called THE WORKOUT and it was my favorite project to date. Just stepped out of expectations and did what was on my heart. That's why I do music an what keeps me inspired to continue doing more .
Guante: What can listeners expect from "Information Age?"
M-1: Go to deadprez.com and see. We are still dead prez, and we are embracing change and attempting to make the abstract ideas of "freedom" more real. That'd what I hope Information Age sounds like.
STIC: A soulful futuristic sound with socially and personally reflective lyrics encouraging open mindedness, continual learning, health and self determination.
Guante: Who have you both been listening to lately? Are there any other artists you wish more people knew about?
STIC: I be listening to audio books!
Running for my life by Lopez lomong
And kirinyaga by mike resnik
Are both awesome reads.
Otherwise lately, because im writing and producing my follow up to THE WORKOUT, part 2 and training to run a marathon, I been listening to a lot of high energy rock instrumentals, native flute solos, African drumming, meditative yoga new age stuff, jazz and 80s rock classics and 70s soul classics.
Kitaro is one of my favorites a composer from Japan.
As far as hip hop Saigon is sharp to me.
He doing it hard with substance.
But not too many options that I've heard that are bringing it strong but with positive energy.
That's why I have to keep being the change I wanna see in music … And in life.
http://deadprezblog.wordpress.com/blog/