Gay Witch Abortion: Opportunistic Smokescreen Behavior Review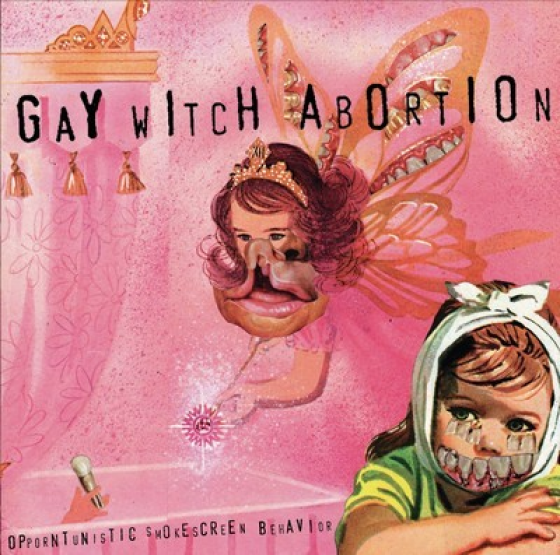 In a music scene as abundant and vibrant as the one in the Twin Cities, it's not incomprehensible that a great band would release an album without word getting out. But when the band is one of the most consistently powerful rock bands of the last 5 years and their record is out on a local mainstay label, it is a little bit more surprising. Well, surprise! Gay Witch Abortion have a new album, Opportunistic Smokescreen Behavior, out now on Learning Curve Records. Not surprising? The local duo crafted another muscular record that sounds like an army of darkness on the march, adding another chapter to their already impressive catalog.
After a noisy ambient intro, the rest of the 14 song, 39 minute album is a crushing, riff heavy barrage of hard as steel rock and roll. This is the kind of music, with muddy guitar riffs and uncontrolled, animal like drumming, that you find yourself gritting your teeth to as it washes through your headphones. The kind of music that, when the duo locks into a groove, causes your fists to clench and a scowl to permeate your face (and for some, in a move Reviler cannot advise against enough, it may cause you to do the stupid horn thing with your hand where you put up your pointer finger and pinky, but seriously, stop doing this). The unbridled ferocity is evident across the record, but most pronounced on tracks like the buzz saw "Air Wonder Stories," which has you checking your speakers to make sure they aren't blown out and the melodic but rapturous "Hornet Japonica." While their previous work has leaned more on instrumental tracks, which give the group a hardcore tinged post-rock feel, there is a noticeable increase in vocals on the new record. They do this without softening the blow that their music delivers, not letting the vocals bury their sound and fury, and in most cases adding to the urgency that builds throughout their work.
The fact that I found this record on a whim at Treehouse Records, with no advance warning, means one of two things. One is that our scene is so amazing, so overwhelmed with new music, that someone who tries to look for new local music whenever I can didn't find it above the haze. Or the second possibility is that Gay Witch Abortion, despite having a Sex Pistols-esqe provocative name, aren't super great at PR. I fall firmly with the later theory, as this album, as with all of their work, is too strong not to stand out no matter what music scene it is released into. The band has made slight tweaks to their sound (namely the more pronounced vocals), but mostly stuck with their winning formula of punching you squarely in the face with spastic drumming and hard as nail guitar riffs. You may have missed this when it came out last week, as I did, but don't let that stop you from diving into this really great record.
The band are celebrating tonight (Thursday, 11/8) with a free album release show at Grumpys.
Buy the record from Learning Curve HERE.