Dead Luke: God Takes LSD Review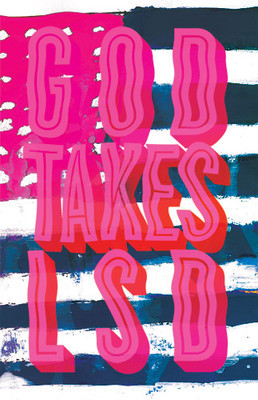 If Jason Spaceman and Christopher Hitchens had a baby, raised on a commune with Anton Newcombe, that baby would probably turn out to be Dead Luke.  On his latest Moon Glyph released CS God Takes LSD, Dead Luke follows up on his solid 2011 LP Meanwhile…In the Midwest with a swampy collection of pysch garage burners.  The tape is a heady trip into the world of Dead Luke, a foggy world that isn't afraid to push cultural buttons but refuses to be defined by its religious stand.
The tape is a wash of reverb soaked guitars, hypnotic organs, sparse percussion and Luke's distant but commanding vocals.  Listening to the record in headphones feel like you like you are taking a demented trip to the late 60's, albeit with an anti-religious bent. While the content isn't overbearing, it is hard to ignore the album title, along with songs named "God of Nothing (Reprise)," "I Stepped Into the Light, I got Into a Fight," "On the Eighth Day, God took LSD" and "Jesus Fucking Christ," which finds Luke singing, with spirited disdain, "sorry Jesus Christ, but I know you're wrong." Even when he is running roughshod over many cultural landmarks, you never get the sense that the message outweighs the final product. Alongside the more topical material, there are a whole slew of psychedelic garage-pysch jams that even your church group friends would like (as long as you conveniently forget to leave out the name of the record…).  Songs like "Bad Little Women (Live)," "If You Love Me" and "I Loved" are steeped in classic garage rock, with simple three chord melodies sounding as powerful as a train. Like the best Spaceman 3 material, Dead Luke finds a way to sound clear headed and druggy at the same time, a generous mix of reckless abandon and rock solid chops.
While it would be easy to get lost in the title of the record and some of the more incendiary song titles (as I did to a certain extent in this review), this really is a record that stands on its own two feet.  The songs have a murky but timeless feel, balancing on a classic blues/garage spectrum that is easy to utilize but hard to do well.  Dead Luke takes a genre as old as Chuck Berry and as worn as Jim Morrison's leather pants and injects life into it, both via his non-conforming lyrical content and his ability to take standard material and make it seem new. No matter whether you come for the Christopher Hitchens or the Jason Spaceman portion of the record, God Takes LSD is worth the trip.