P.O.S: We Don't Even Live Here Review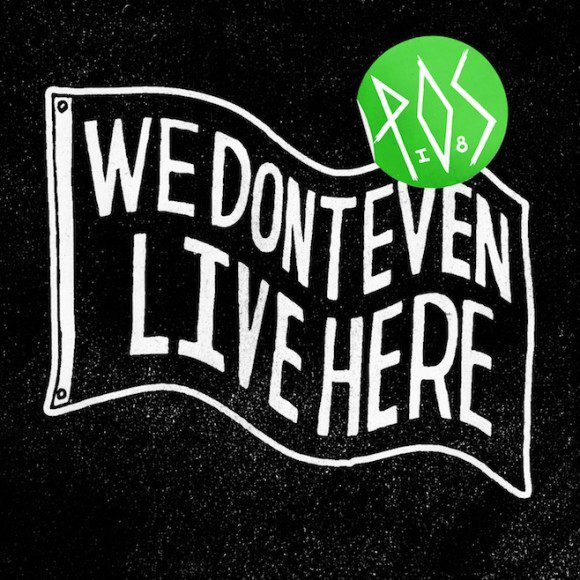 There's a lot that can be said for Stefon Alexander, but one thing you can be rest assured on is the fact that you cannot box in what he does stylistically. This has been evident in most of his discography, but on his fourth album, "We Don't Even Live Here," not only does he prove time and time again why not to box him in, but he also makes his boldest statement yet as an artist, and that's why this album succeeds on many levels.
Starting off with the drum-clatter of "Bumper", P.O.S wastes no time getting back into the swing of things, and then from thereon, the album gets interesting. Starting with the Lazerbeak guitar-laden-crunk jam "Fuck Your Stuff", provides a foray into more uncharted territory, but still provides the energy and intensity that we all love and appreciate, while "Where We Land" features the vocal stylings of Justin Vernon of Bon Iver/Gayngs, while the Astronautilus assisted "Wanted/Wasted" has the strongest statement yet where P.O.S states "black president, hooray for history!/the shit's still totally pretend". Elsewhere on the record, there's the steady stomping jam "They Can't Come" featuring an awesome appearance by Sims, where Sims states "I don't do what it takes anymore, I demand". Meanwhile on the slow cooker "Lock-picks, Knives, Bricks and Bats", P.O.S delivers the strongest highlight of the record, while the stuttering synths of "Get Down" showcases a strong duet with P.O.S and Mike Mictlan, proving why they are forces to be reckoned with.
The production on "We Don't Even Live Here" boasts production from Andrew Dawson (who did some work on Kanye West's "My Beautiful Dark Twisted Fantasy"), Lazerbeak, Boyz Noize, P.O.S, and even Cecil Otter make some contributions, which causes "We Don't Even Live Here" to have an uneasy sound about it, and that's in the best way possible. Drums are configured every which way but robotic, synths and guitars acting like precisely guided lasers, and its samples serve as a lesson to microsampling, re-configuring them into a whole new context altogether. In the end, it just proves why P.O.S is dope and a much needed breath of fresh air from the traditional sounds, and why "We Don't Even Live Here" is an album all its own. Buy the record HERE.
—Ali Elabbady (Background Noise Crew, Egypto Knuckles)