The Best Of 2012: Songs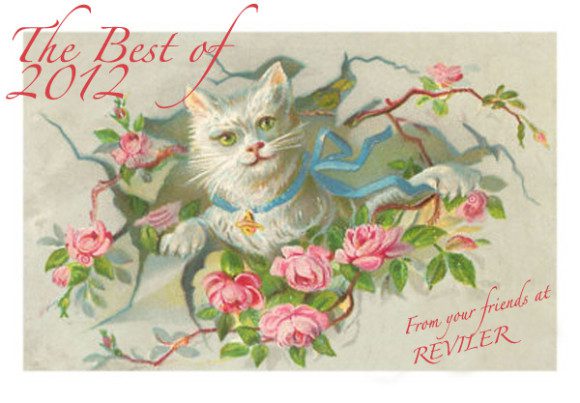 It is that time of year again, folks.  Eggnog, people cutting down trees and putting them in their living rooms, people pretending the sweater they have worn a million times is now ironic and "ugly"—– and lists.  Beautiful, beautiful lists.  We here at Reviler would be remiss to pass up and opportunity to rank, order, catalog and otherwise pontificate numerically our choices for what we thought was the "best" of 2012.  We even invited some of our BFF's to join the party.  Think we are wrong?  After you hit "send" on the email death threat to us, leave you choices as to why we so wildly missed the mark in the comment section and we can debate things 21st century style.  Over the internet and in our underwear. Mazel tov.
BEST SONGS
Ali (Egypto Knuckles, Background Noise Crew)
1.  Roc Marciano "76"
2.  Flying Lotus "Flotus"
3.  Aesop Rock "Zero Dark Thirty"
4.  Kendrick Lamar "Backseat Freestyle"
5.  Schoolboy Q & A$AP Rocky "Hands On The Wheel"
6.  Danny Brown "Grown Up"
7.  Macklemore & Ryan Lewis "Same Love"
8.  Nas "Daughters
9.  Rick Ross, Jay-Z & Dr. Dre "3 Kings"
10.  Big K.R.I.T. "I Got This"

Erica Krum (Oaks/Wunky Zine)

* Grimes- "Circumambient"
This song is so dramatic, celestial, heavy, and dancey. (Visions is my favorite record of the year, by the way)
* Bear In Heaven- "Sinful Nature"
A beautiful, ambient, jam-out.
* Night Moves- "Horses"
Driving and wickedly catchy, this song burns in your brain. I adore the vocals.
* Beach House- "Wild"
More gorgeousness from Beach House but with more beauty than ever. I think this track stands out because of its cheerfulness.
* Windhand- "Summon the Moon"
This band from VA made an outrageously good record and this song is the pinnacle of slow, beautiful, atmospheric metal.
* Ariel Pink- "Only in my Dreams"
Almost a jingle but more of a retro sounding love song. Cute. Very cute and silly.
* urity Ring- "Fineshrine"
This song blew my brains out of my head. Just a really tender and explicit heart song with awesome beats and some of the best lyrics I've    heard in a long time.
* Cloud Nothings- "No Future No Past"
A new grunge song is hard to pull off, but these dudes did it very very well. The build up and kick in is totally addicting.
* Father John Misty- "Hollywood Forever Cemetery Sings"
I love the intensity of this song, the fuzzed out quality of the instrumentation, but mostly I love the vague storytelling of the lyrics.
* Cat Power- "Cherokee"
I love this song because it paints a vivid picture of nature and it feels like Chan Marshall getting her real voice back.
Kyle Matteson

1. The House That Heaven Built – Japandroids
2. Same Love (feat. Mary Lambert) – Macklemore & Ryan Lewis
3. Wildest Moments – Jessie Ware
4. Myth – Beach House
5. Five Seconds – Twin Shadow
6. Fineshrine – Purity Ring
7. The Only Son of The Ladiesman – Father John Misty
8. Three White Horses – Andrew Bird
9. Serpents – Sharon Van Etten
10. I've Seen Footage – Death Grips

Jon (Reviler)
1. Grimes – Oblivion
2. Frank Ocean – Thinkin' Bout You
3. Ariel Pink – Symphony of the Nymph
4. Danny Brown – Bluberry (Pills & Cocaine)
5. Killer Mike – Reagan
6. Julia Holter – Goddess Eyes
7. Angel Olsen – Safe in the Womb
8. Mac DeMarco – Cookin' Up Something Good
9. Ty Segall & White Fence – Time
10. Micachu and the Shapes – Holiday

Josh (Reviler)
(NOTE- only songs that were not on albums that made top 10)
1. Frank Ocean- Pyramids
2. Halasan Bazar- Everybody Dies
3. Tame Impala- Feels Like We Only Go Backwards
4. Earl Sweatshirt- Chum
5. Public Image Ltd- One Drop
6. La Vampires/Octa Octa- Freedom 2K
7. VCMG- Bendy Bass
8. Killer Mike- Reagan
9. Outer Minds- Until You're Dead
10. DIIV- How Long Have you Known?
(HM- Ketamines- 1yr, Lower Dens- Brains, Mark Lanegan- Gravediggers Song, Chromatics- Kill for Love, Cat Power- Ruin, Japandroids- Continuous Thunder, Julia Holter- In the Same Room, Godspeed You! Black Emperor- Mladic)