The Best of 2012: Albums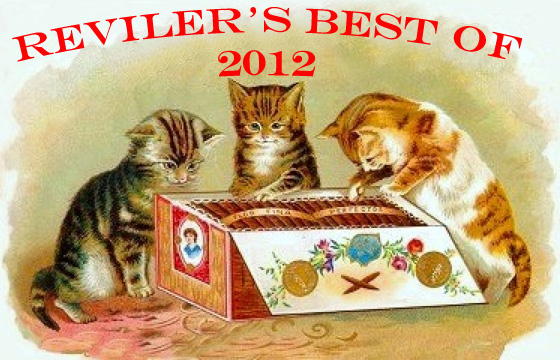 It is that time of year again, folks.  Eggnog, people cutting down trees and putting them in their living rooms, people pretending the sweater they have worn a million times is now ironic and "ugly"—– and lists.  Beautiful, beautiful lists.  We here at Reviler would be remiss to pass up and opportunity to rank, order, catalog and otherwise pontificate numerically our choices for what we thought was the "best" of 2012.  We even invited some of our BFF's to join the party.  Think we are wrong?  After you hit "send" on the email death threat to us, leave you choices as to why we so wildly missed the mark in the comment section and we can debate things 21st century style.  Over the internet and in our underwear. Mazel tov.
BEST ALBUMS

Zach McCormick (Radio K)
Oddisee-People Hear What They See
Kendrick Lamar-good kid m.A.A.d. city
Nude Beach-II
Alabama Shakes-Boys and Girls
Screaming Females-Ugly
Lee Fields-Faithful Man
Big KRIT-4Eva N A Day
Dr. John-Locked Down
Royal Headache-S/T
The Hives-Lex Hives

Adam (Reviler)
King Tuff – King Tuff
Red Kross – Researching The Blues
Kendrick Lamar – good kid, mAAD city
Death Grips – The Money Store
The Chrome Cranks – Ain't No Lies in Blood
LFY – Growing Seeds
Killer Mike – R.A.P. Music
Frank Ocean – channel ORANGE
EL-P – Cancer 4 Cure
Swans – We Rose From Your Bed With the Sun in Our Head

Josh (Reviler)
1. Sun Araw & M. Geddes Gengras meet The Congos – Icon Give Thank
2. Ty Segall- Twins/Slaughterhouse/Hair (with Tim from White Fence)
3. Clams Casino- Instrumentals II
4. Dan Deacon- America
5. Andy Stott- Luxury Problems
6. Lindstrom- Smalhans
7. Menahan Street Band/Budos Band- The Crossing/III
8. Black Moth Super Rainbow- Cobra Juicy
9. Harry Taussig- Fate is Only Twice
10. Blondes- Blondes
(HM- Mux Mool- Planet High School, Ssalvia- RZA, Death Grips- Money Store/No Love Deep Web, Peaking Lights- Lucifer, Emeralds- Just to Make You Feel Anything, Actress- RIP, How to Dress Well- Total Loss)

Jon (Reviler)
1. Killer Mike – RAP Music
2. Ariel Pink – Mature Themes
3. Julia Holter – Ekstasis
4. Flying Lotus – Until the Quiet Comes
5. Brother Ali – Mourning in America
6. Lower Dens – Nootropics
7. Ty Segall & White Fence – Hair
8. Josephine Foster – Blood Rushing
9. Angel Olsen – Half Way Home
10. Death Gripe – The Money Store

Jon Jon Scott (Sound Verite)
Grizzly Bear – Shields
Grizzly Bear return with balls. The first singles "Sleeping Ute and "Yet Again" has more bang than one would expect from quite champions and still just as majestic.
The Weeknd – Trilogy
With the success of their drugged-out mixtapes House of Balloons, Thursday & Echoes of Silence Canadian singer Abel Tesfaye and the production craft of Minnesota native Doc Mckinney (Santigold/Muja Messiah/Drake) and Illlangelo take R&B on a stylistic detour.
Beach House – Bloom
Beautiful melodies and classic dark & pretty guitars.
Kendrick Lamar – Good Kid, Madd City
Compton kid channels early Nas, brings Los Angeles back with a vengence along with his Black Hippy crew of Schoolboy Q, Ab-Soul & Jay Rock and assist from Dr. Dre.
Cat Power – Sun
Chan Marshal big comeback was incredibly enjoyable, complete with big positive songs that make you think shes actually happy.
Dean Blunt & Inga Copeland – Ebony
If Massive Attack were bout it currenetly they'd be somewhere near Blunt and Copeland. Giving slowed down seduction a new meaning "torched-in"?
Santigold – Master Of My Make Believe
"Disparate Youth", "God From The Machine" and "The Riot's Gone" are worth the price of admission alone. Although not as fresh or surprising as her debut.
Flying Lotus – Until The Quiet Comes
The great-nephew of Alice Coltrane gets assist from artist like Thom Yorke, Erykah Badu and Thundercat to round out another opus of jazz inspired electronics soaked in modern beats and soul excursions buried in the mix.
Nas – Life Is Good
While Life Is Good clearly doesn't have the hunger or direct vision of Nas' debut Illmatic, it may be Nas most complete record since 2002's God's Son. With standout tracks like "No Introduction", "Daughters", "The Don", "Loco-Motive", "Back When" and "Nasty" he prevails in capturing the spirit of that kid from Illmatic.
Raveonetts – Observator
Gorgeous arrangements and lush guitars awash in careful measures.
Frank Ocean – Channel Orange
Frank Ocean has made a quite a powerful statement, colored in so many shades of pop music's kaleidoscope. Whether as keeper of the flame of a Wonder or Prince or as playful with the experimental cadences of Kayne West and Fiona Apple. It seems he was inspired to deliver a great record full of bold confessions, joy, personal tragedy, dark views of city life and beautiful conceptual narratives. Ocean's falsetto is rich, nuanced and full of drama.
Kyle Matteson (@solace)
1. Beach House – Bloom
2. Jessie Ware – Devotion
3. Cody Chestnutt – Landing on a Hundred
4. The Walkmen – Heaven
5. Father John Misty – Fear Fun
6. Woods – Bend Beyond
7. Sharon Van Etten – Tramp
8. Strand of Oaks – Dark Shores
9. P.O.S. – We Don't Even Live Here
10. Miguel – Kaleidoscope Dream

Tess (Radio K)
Frank Ocean- Channel ORANGE
David Byrne & St.Vincent- Love This Giant
The xx- Coexist
Jack White- Blunderbuss
Balkan Beat Box-Give
Dr.John- Locked Down
Dark Dark Dark- Who Needs Who
Dum Dum Girls- End of Daze
Zammuto- Zammuto
Purity Ring- Shrines

Steve Skavnak (@steveskavnak)
1.Beach House – Bloom
In my original review of Bloom, I claimed that I would be so disappointed if I ever got tired of it. I'd like to officially announce that I'm still quite proud of myself; 'Bloom' is my runaway #1 album of the year.
2. Japandroids – Celebration Rock
If you aren't full of positive energy after listening to this album, you're doing music wrong.
3. Father John Misty – Fear Fun
I'm fairly certain each and every song on this record could be a radio single…and thanks to The Current for already spinning 4 of the 12 tracks regularly, it's well on its way. Blissful, sarcastic songwriting at its best.
4. Jessie Ware – Devotion
The whole British pop songstress du jour concept isn't typically my bag, but man did this album work for me. Good luck finding it in the US, though, until she works out the illegal Big Pun sample claim on '110%' (one of my favorite tracks of the year).
5. POS – We don't Even Live Here
Stef's best album to date is also the best local release of the year.  Taking inspiration from Marijuana Deathsquads and asking his Doomtree cohorts (plus Astronautalis & Justin Vernon) to contribute makes for a funky freak out session that will forever be regarded as one of Minnesota's key contributions to modern hip-hop.
6. Glen Hansard – Rhythm and Repose
It's hard to believe this is the first proper solo release for the Frames/Swell Season collaborator. 14 earnest confessions that simultaneously tug at your heartstrings and make you grin with appreciation.
7. Metz – Metz
This is my requisite loud & filthy record of the year. You can only listen to it about once a week, though, as it gives your insides the same feeling as eating an entire bag of Cool Ranch Doritos.
8. Frank Ocean – Channel Orange
I believe the hype. Some of the year's best singles came off of Channel Orange, and if Frank would've cut some of the filler, this may have made my top 5.
9. Titus Andronicus – Local Business
Gone is Patrick Stickles' sensational beard, but his knack for [very personal] storytelling remains.
10. Nada Surf – The Stars are Indifferent to Astronomy
One of my favorite rock acts of the past decade+ continues to release albums that pack a catchy wollop, all while being some of the nicest guys in the biz.
Ali (Egypto Knuckles, Background Noise Crew)
1.  (tie) Kendrick Lamar "good kid, m.A.A.d city" / Schoolboy Q "Habits & Contradictions" / Ab-Soul "Control System"
2.  (tie) El-P "Cancer 4 Cure" / Killer Mike "R.A.P. Music"
3.  (tie) Action Bronson "Blue Chips" / "Rare Chandeliers"
4.  (tie) Death Grips "The Money Store" / "NO LOVE DEEP WEB"
5.  Fiona Apple "The Idler Wheel Is Wiser Than the Driver of the Screw and Whipping Cords Will Serve You More Than Ropes Will Ever Do"
6.  Nas "Life Is Good"
7.  Flying Lotus "Until The Quiet Comes"
8.  Beach House "Bloom"
9.  Dirty Projectors "Swing Lo Magellan"
10. (tie) Big K.R.I.T. "Live From The Underground" / "4eva N A Day"
Honorable Mention (because too much damn good music came out in 2012 and its in no particular order):
Grimes "Visions"
Grizzly Bear "Shields"
How To Dress Well "Total Loss"
Oddisee "People Hear What They See"
Japandroids "Celebration Rock"
Chromatics "Kill For Love"
Macklemore & Ryan Lewis "The Heist"
Converge "All We Love We Leave Behind"
Cloud Nothings "Attack On Memory"
Metz "Metz"