STNNNG: Empire Inward Review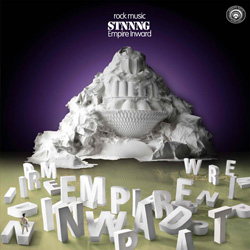 STNNNG are at that weird point in their career where they aren't going to be a new hotshot band, but they are on the cusp of making waves in ways that haven't been presented to them in their decade long career. As the rolled into their 10th year of being a band, the group was not only invited to the UK to play festival shows, their new record Empire Inward was produced by the legendary Steve Albini and mastered at Abbey Road studios. These two occurrences will only help to raise awareness about the local stalwarts, which works to their advantage as their fourth LP is a strong and commanding continuation from their solid back catalog (which we dove into HERE).
It wasn't as if their previous material was recorded on a shitty Tascam 4 track and dubbed at home, so the differences brought on by the famous producer/studio will not be too dramatic for longtime fans, even if they are a entry point for some who are new to the group. Newbies will be sucked into the authoritative duel guitar work, the thick and imposing rhythm section and the cankerous, Nick Cave channeling Mark E Smith barking of lead singer Chris Besinger. From the ping-pong power chords on lead single "Brain-Dumb" to the slow burn, post-rock atmospherics into Swans like noise cacophony of album closer "Adam Justified," Empire Inward is, like their previous work, a heavy album that doesn't feel plodding or overdone. There may be a bit of a mission statement in the lyric tucked between the darting guitars on album opener "Ring and Roar," where Besinger sings "We are men of art/transmitting rapture/ via our boot heel." The eight songs on the LP are thundering bursts of post-punk that are more than just loud guitars and boisterous drums, they are well crafted explosions of noise that serve as pummeling soapboxes for the demented, punk-rock-town-crier that is Chris Besigner. This is the kind of art that leaves you with bruises, a bloody nose and a smile on your face.
No matter whether you came to this album as a diehard fan or from the buzz surrounding its creation, there is a lot to love on Empire Inward. It is a quick and dirty 27 minutes that rambles by in the blink of an eye, a record that begs to be examined over multiple listens. On one pass you may hear the galloping, take no prisoners rhytme section, the next time through the angular, striaght for your throat guitar work. And then you'll take one meander just to soak in the howl at the moon lyrics. Combine it all together and it is another notch on the belt of the STNNNG crew and one of the strongest releases, local or otherwise, that has come out this year.
As we've mentioned a few times here on Reviler, STNNNG are celebrating both 10 years and the release of their new record tonight in the Midway area of St. Paul (at the Turf, Big V's and a house show) with a blowout that features too many bands to list in one place. Read more about it HERE and don't miss what is going to be a very memorable show.
[soundcloud url="http://api.soundcloud.com/tracks/78199140″ params="" width=" 100%" height="166″ iframe="true" /]
[soundcloud url="http://api.soundcloud.com/tracks/69851463″ params="" width=" 100%" height="166″ iframe="true" /]