Video: "Black Pus In His Hilarious Attic"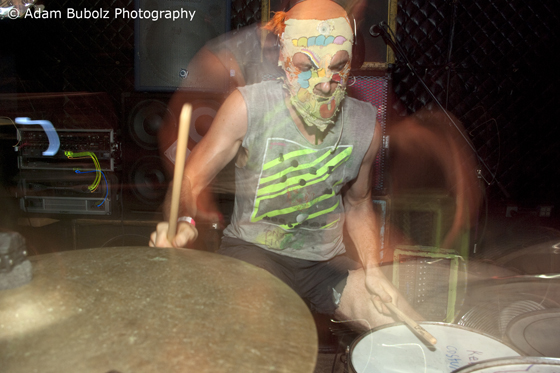 Although Brian Chippendale is perhaps best known for his work with Lightning Bolt, he has made solo records since 2006 under the moniker Black Pus. While his solo work features the same drumming and unique mask-mounted microphone that he is known for, Chippendale's latest release, "All My Relations," showcases a new approach to his music. Unlike his work with Lightning Bolt, where Brian Gibson's bass provides a driving force behind the sound, Chippendale's solo work incorporates a dizzying array of triggered oscillators and other elements, resulting in a surprisingly melodic and captivating blend of noise and melody. "Black Pus In His Hilarious Attic," a standout track from the album, gives listeners a taste of what to expect from this one-man show, with its complex layers of sound, driving rhythms, and unexpected twists and turns.
-Adam
Black Pus plays at the Turf Club tonight with Seawhores and Slapping Purses for a cool $8.
Writer / photographer / Reviler co-founder