Savages: Silence Yourself Review (Three Takes)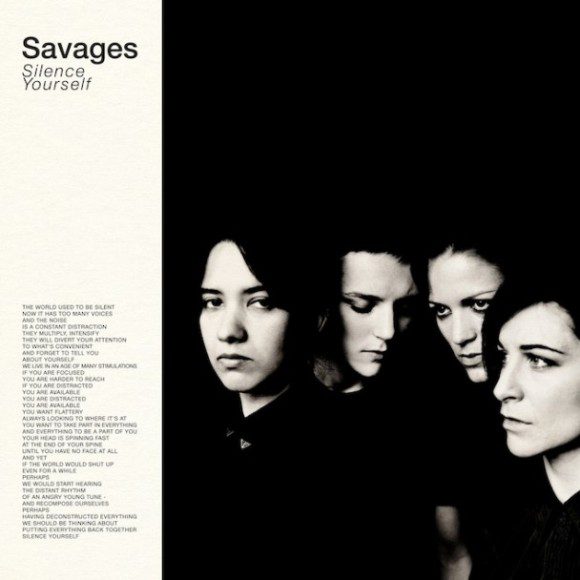 It can be difficult to gain a balanced perspective on an album after reading a single summary of the music. Bias can tilt a review, as can personal taste, history and just about everything else that is unique to the person writing it. So in an effort to offer an expanded perspective in such a medium, here are three reactions, three impressions, three takes on Silence Yourself by Savages.

Jon Jon Scott(Sound Verite)
76/100
The UK music media has a tendency to over-hype and pronounce the next great act every third band – while they are quite adorable, their first record is that of a rookie band . The Savages have taken the mantle of next great "all girl rock band". On paper that sounds just rad. Combing their love of Joy Division, Siouxie & The Banshees and all things post-punk they have managed to make folks forget all about The Yeah Yeah Yeahs' front woman Karen O.
The U.K. quartet is led by French vocalist Jehnny Beth who scowls "You are distracted. You are available" as both purpose and acknowledgement. On their debut they live up the incredible hype, for the most part. "Silence Yourself" seems to bring all the elements together for a successful indie run. With hip-hop and electronica overwhelming the current scene, giving them an appearance of freshness. On "Shut Up" they opine "If you tell me to shut up / I'll tell you to shut up" which seems to pass for some angry rant. On "I Am Here" a galloping wail cries "this is easy" before bursting into glorious flames. "City's Full" follows the same steps with distorted guitars as Beth sings"there's so many pretty girls around". Wow. Taking a softer turn on goth ballad "Strife" and the slower, almost melodic "Waiting For A Sign". There's some sex appeal on "She Will". "Hit Me" is a scuzz fest and there's another gasp at the political with "Husbands". Closing with the elegant "Marshal Dear' structured around a piano and sax shows maturity hints at early PJ Harvey.
With all the fuss they have nothing to say. Built around angular guitar lines that come straight from the paint-by-numbers gloom/dark-rock workshop 101. Check. They're like so serious. What seems missing is a since of joy – it would be rad to hear the band actually sound like they're having fun instead of copying The Wire's sonics, even though there's not a bit of The Fall's swagger or Sleather-Kinney's jittery righteousness. It feels like an A&R's hobby project. Silence Yourself will find its place among the youth, who could use some new girl power as hero stats. In the meantime I'll keep waiting for a song.

Ali (Background Noise Crew, Egypto Knuckles)
90/100
In the first minute of "Shut Up", the Savages make the case for why post-punk carries potency, and in the same space deliver the life-saving CPR for just all out garage rock, by delivering fast paced and blood rushing rhythms, it is an absolute thrill ride of an album like taking a ride in a '67 GTO with a maniac.  There's many other jams like "I Am Here" which begins almost like a psychedelic rock song, but then keeps in step with a subdued and busy bass line, while "City's Full" is full-on menacing.  Elsewhere you got many other jams where Jehnny Beth's vocals operates in this Joy Division like style, full of fury and attitude, and the band keeps building these awesome, powerfully driven arrangements which give Jehnny's vocals plenty of breathing room without all the inflated inflections.  This is just some powerful, kick-ass rock music right here that you need to hear to believe.

Josh (Reviler)
It seems, after soaking in the shadowy post-punk of Savages for a few months, that we can believe the hype.  Right off the jump, the record chugs along with the kinetic energy of "Shut Up," and other than a few bumps in the road, Silence Yourself is an outstanding journey in post-punk nirvana. The whole production, from artwork to song titles to 11 terse tracks, is powerfully minimalist and filled with fist clenching righteousness.  From the charging "I Am Here" to wiry "Husbands," the record unleashes as a tightly wound coil that builds with the bass and drums and releases with the stinging guitars and  Jehnny Beth's dark and powerful vocals. It is a record that feels both sleek and gigantic, a towering debut record that leaves little doubt that this is a band of substance and weight, somehow even bigger than the larger-than-life hype surrounding them.
The band are playing a very sold out show Sunday 7/21 at the Triple Rock, but will be back September 17th at the Mainroom for those without tickets.