Live Thoughts: Savages at First Ave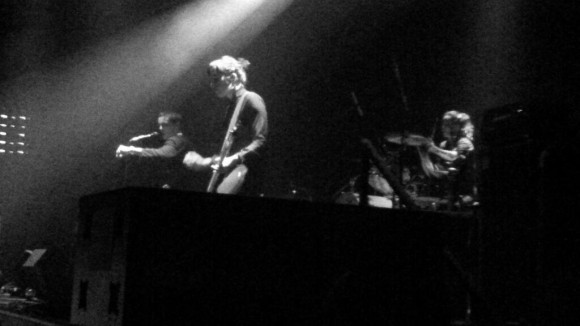 I've seen plenty of bands who roared in smaller rooms (the Entry, Triple Rock, Turf, etc) and then expose themselves as paper tigers when they step into the First Avenue Mainroom. I wondered how Savages, the London based post-punk revival group who took the Triple Rock by storm earlier this year, would fare on the larger stage. It took about 2 minutes into their first song, "I Am Here," to dispel any doubts that they were up to the task.
The band were a model of muscular efficiency, waltzing on stage right at their 9:15 advertised time and playing a terse, exhilarating 75 minute set highlighting their outstanding debut LP Silence Yourself. The guitar/bass/drums portion of the group managed to sound both lean and gigantic, with their sparse stage setup and all black outfits only adding to the minimalist charm. I hadn't picked it up listening to the record, but lead singer Jehnny Beth is a magnetic star and a centrifugal force in their live show.
Bursting through 13 songs, the group burst out of the gates and continued at the frantic pace for almost the entire show. Highlights live were, as on record, the tracks "Shut Up," "Husbands" and the stretched out, jammy closure "Fuckers." The crowd seemed to draw heavily from folks who were around when the post-punk legends who influenced Savages cut their teeth, so the crowd was less energetic than I thought they would be, but the band really commanded respect and gave the audience no choice but to ride the wave with them.
I was on the Savages bandwagon before Tuesday night, but I've had bands lose me in their assent when it becomes clear that they are punching above their weight. Savages proved easily able to bring down the house, no matter how big it was, and I would be remiss to doubt them at conquering any scale at this point.