Live Thoughts: Tal National/Cave/Mr. Hide at Belmore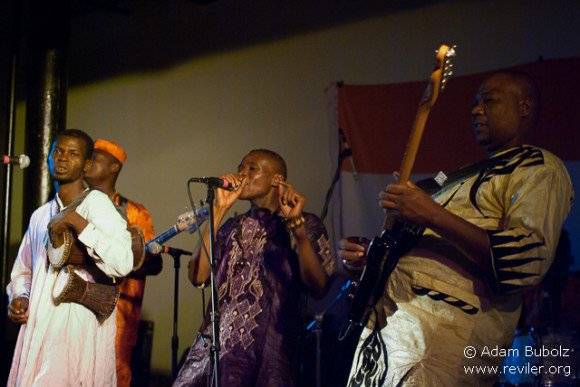 I don't like stadium shows. Frankly, after years of seeing more than a show a week, even sold-out club shows can test my patience. There is something about a small space with good sound and sight-lines, along with the law of averages that says less people means a better chance of avoiding frat-bros and "woo" girls guzzling Miller Lite and taking selfies between yelling for the band to play the one song they heard on the Current. But Sunday night was the other end of the spectrum. A show that featured three great band was criminally under-attended, which is a bummer for the touring groups and a shame for all those who missed this outstanding show.
Starting the show was locals Mr. Hide, who played their Nuggets leaning garage pysch, starting with originals before taking a few songs mid-set to play covers. Between material from their great Gettin Hide tape and songs from their forthcoming LP, they wore their influences on their sleeve, covering Love, The Kinks and the Castaways.
Next up were Cave, the four (five on tour) piece Chicago kraut-rockers Cave, who are promoting their soon to released LP Threace. The group locked into their primal groove, featuring motorik rhythms, galloping bass, duel guitars and the rich organ sounds that flesh out their sound. Their set was rich and hypnotic, a colorful palette of sound driven forward by an incessant pulse. The band played material off of Threace, which only served to increase my excitement to hear the record, which drops on Oct. 15 on Drag City.
Last up were Tal National, a highlife group from Niger who recently released Kaani on Fat Cat Records in the U.S. I had heard a bit from the band before Sunday, but was in no way expecting the infectious, celebratory and fun set the five piece (six if you include their dancer) ensemble put together. Led by guitar player Hamadal Issoufou Moumine, the group was all high octane grooves, huge smiles and a life-affirming spirit that got even the most clunky of us in the crowd shuffling our feet. The duel-percussion, wild-cat bass and warm and lucid guitar playing were complimented after a few songs by a great singer who danced and sang along, seemingly having as much fun as those of us in the crowd. Their set was one were you looked around and every person was smiling, one of those sets that grabs you by the collar and shakes the cynicism and lethargy right out of you. They didn't mind the small crowd, still giving us their all, including having the bass and guitar player come into the crowd and do choreographed dance while they played. Their energy, chops and showmanship could have filled a stadium, but even seeing them with about 20 other people felt like a communal experience and was a wonderful reminder about how amazing live music can be.
I would comfortably recommend any of the three bands on this bill separately. Together? It was one of the best top-to-bottom lineups I have seen a long time. While it is nice to have a "our little secret" show from time to time, the pyshced-garage of Mr. Hide, the heavy and focused groove of Cave and the contagious and scintillating experience of seeing Tal National deserved more from Minneapolis than they got Sunday night. If you get a chance, don't miss these acts next time.