Live Thoughts: Janelle Monae at the Skyway Theater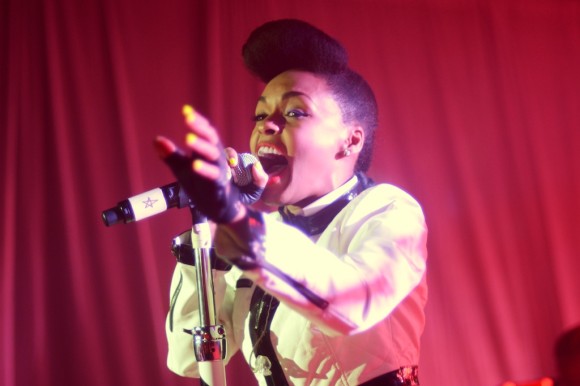 If there were any justice in the world, Janelle Monae would be the biggest star in pop music.
On Tuesday night, Monae and her band put on an epic, mind-bending show at the Skyway Theater in Minneapolis. From the moment she opened her eyes (Monae was rolled out on a two wheeled card at the start of the show in a straightjacket) to her final bow, surrounded by her bandmates, Monae was simply electric. She danced, crowd surfed, and walked among the crowd, all while displaying perfect pop performance sensibility and enviable vocal chops.
Minnesota's Purple Yoda, Prince, was in attendance at the show, tucked away in a balcony-level box seat. He sings on "Giving You What You Love" on Monae's current album, but was absent on stage.
Here's the deal, though: Monae and her band didn't need Prince. In fact (and I recognize the near-heresy of this statement), Prince would've actually detracted from the power and impact of the show. If Monae hadn't intentionally directed attention to her bandmates, it would've been challenging to recognize that they were even there. Monae is just that dynamic and captivating.
But Monae did frequently turn her attention to her backing band. While guitarist Kellindo Parker was ripping solos, Monae stepped out of the spotlight and allowed him to shine. She pulled her horn players forward and reminded us (as she does on her albums) that they're the "funkiest horn section in Metropolis."
In different hands, the android/asylum/Metropolis schtick that Monae employs would be annoying – cheeky and fun, sure, but ultimately distracting and campy. Monae's magnetism, her sheer energy kept the flashy and theatrical elements of her show from overwhelming her musical sensibility and performance. In her hands, the scripted James Brown cape routine and the other skits aren't extraneous – they're integral to the fun and the funkiness.
A particular highlight was Monae's choice of covers – she rolled out pitch-perfect versions of The Jackson 5's "I Want You Back" and Prince's own "Let's Go Crazy."
Current DJ Jake Rudh blasted a pre-show set that perfectly set the mood for the evening, bouncing back and forth between classic pop jams and angular funk. Opening act Strange Names, clearly as excited to be opening for Janelle Monae as the audience was to see her, worked their way through a gangly, stick-dropping set of synth pop that was fun and energetic.
Waiting in the blocks-long line to get into the Skyway Theater before the show, I had the thought that this is what it felt like to wait in line for a Prince show in the early 80s; surrounded by people of all colors, classes, ages, shapes, sizes, preferences and musical predilections, you felt like to you were on the verge of witnessing something big, powerful, and magnificent. Janelle Monae, perhaps the most important pop artist of her generation, did not disappoint.
– Atom Robinson