Ecid: Post Euphoria, Vol. 2 Review (Release show TONIGHT!)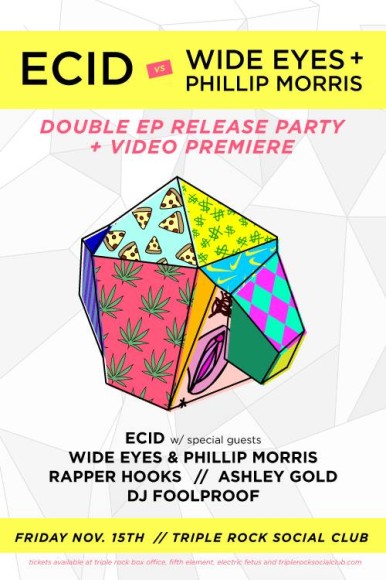 Ecid continues to push the boundaries of his sound and experimentation. While Werewolf Hologram definitely continued to be a banner release for Ecid, he didn't rest, putting out Post Euphoria, Vol. 1, which definitely showcased a more organic and instrumental approach with bubbling synths and pulsating yet cacophonous 808 bumps, with Ecid's lamentations proving that he was definitely making more an artistic statement about his purpose. However, on Post Euphoria, Vol. 2, its as if Ecid is perfecting his approach with each release making it more interesting and enjoyable.
Starting things off with "G R U N G E H O T E L," a definite head-nodder with 8-bit synths keeping the track entertaining, Ecid continues his lamentations on the hipster world at large, while "Heart Break College," provides a bit more of a southern bounce, keeping this interesting and his message finely tuned for the masses at large. Elsewhere, this carries into the tune "Communication Abuse," which has a new-wave approach to it, which echoes sentiments that were originally expressed on a J-Zone tune "Gadget Ho," with the need to unplug and enjoy life for what it is. However, the highlight of the record comes on "One Way Ticket," which is a sequel to "Akmude Sallam," a tale of a well-meaning foreigner who is captured due to a misunderstanding. "One Way Ticket" is done in the voice of his mother who arrives and is waiting for his son, with virtually no means of communication, and is definitely a worthy sequel to is predecessor, and shows off Ecid's flair as a writer and producer to be able to convey emotion and a story in a captivating manner.
Overall, Post Euphoria, Vol. 2 manages to be a worthy follow up that showcases Ecid's progression as an artist and producer, knowing the chemistry it takes to create a tune that manages to capture a listener's ears, creating an overall consistent and fluid sound that proves Ecid makes timeless music for the masses.
—Ali (Background Noise Crew, Egypto Knuckles)
Ecid will be doing a show with Rapper Hooks, Wide Eyes & Phillip Morris, Ashley Gold & DJ Foolproof, as a dual release party for Ecid's "Post Euphoria, Vol. 2," and Wide Eyes & Phillip Morris's "The Sick & The Dead," EP & Video Premiere. Doors are at 9pm for this 18+ show and will go down at the Triple Rock Social Club on Friday, November 15th. Tickets are $5, and will be $10 at the door on the day of the release party.