Heiruspecs: Night Falls Review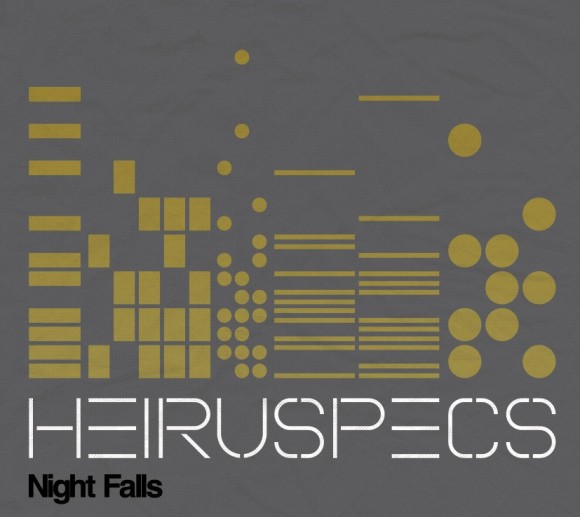 Since their self-titled 5th album in 2008, the members of Heiruspecs have all kept massively busy; dVRG has kept busy being a keyboardist for Brother Ali, Chastity Brown, as well as serving production and arrangement duties for The Cloak Ox, MaLLy, and Allan Kingdom. Meanwhile, Felix has been an integral member of the Titan Administration stable along with Mastermind of Guardians of Balance fame, and Sean McPherson has been handling touring duties as part of Dessa's ensemble, and just recently put out his solo project as Twinkie Jiggles Broken Orchestra. Peter Leggett has been doing work with Aaron & The Sea, while Josh Peterson has been known for his work with Big Trouble, and Muad'dib has also kept busy as well with some side projects of his own. Needless to say, it's been awhile since that self-titled album. Now they return with their 6th full length, Night Falls, and needless to say, they haven't missed a beat.
Those that recall the self-titled affair recall a lot; the numerous guest spots from Dessa, Dan Wilson, Carnage, and I Self Devine, among a few others, and it was their longest LP to date, clocking in at an astounding 21 tracks and 77 minutes. Night Falls by comparison clocks in at a lean 14 tracks sprawled across 56 minutes, but what both have in comparison is the attention to detail and the high quality standard Heiruspecs holds themselves to. This can be noted in several ways, the way Chastity Brown provides the subtle and great assist to Felix's real life lamentations on "On The Ground," the almost ska-like heyday perfected on "Let's Go," the joust of verses between Felix and Muad'dib on "Towers," and the way each instrument introduces itself in Felix's rhyme before it all reaches its climax and supposed destruction, on the closing track, "Walter White."
The great thing about Heiruspecs is that even though this is their 6th album, no album sounds alike from one another, and to box in something like Night Falls by comparing it to something else in their catalog would be doing this album a disservice. In short, Night Falls is another win in Heiruspecs' already diverse and awesome catalog.
Heiruspecs will be celebrating the release of Night Falls on Saturday, April 26th at the Amsterdam Bar & Hall in Saint Paul. Tickets are $12 in advance, and $14 at the door on the day of the event. Joining Heiruspecs will be deM atlaS, Allan Kingdom, and DJ Neviator. Show begins at 9pm. This is a 21+ event.