Manny Phesto: "Southside Looking in" Review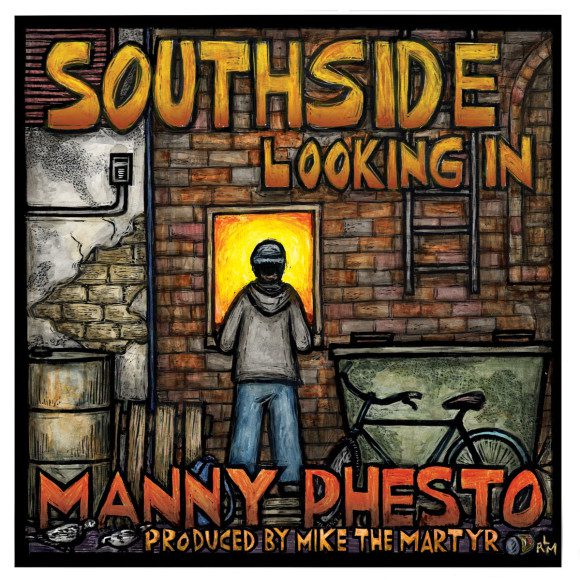 Leading up to the release of Southside Looking In, the album from Manny Phesto, there were a whole slew of one-off tunes leading up to the album.  There was the star-studded "Boondock Saints" featuring Muja Messiah and Maria Isa, and there was also a collaboration between him and Tall Paul on the amazingly soulful and smooth "Ambrosia."  If anything, they built quite the anticipation for the fact that Southside Looking In is the 2nd project this year entirely produced by Long Doe affiliate and beatsmith Mike The Martyr, which begs the question as to not only how this album stacks up, but is Mike the Martyr planning to pull a hat trick this year?
All signs point to yes, as Mike The Martyr provides nothing but the meat & potatoes, mid-90s golden age, soulful production for Manny to get his flow on over.  Such as the epic violins and heavenly guitar strings on the lead off single "Eternity In The Cities," or the dramatic vocal coos on "Cedar Ave."   Elsewhere, Mike also gives a great guest appearance on "The Account" as horns ring triumphantly, while pianos provide a head-nod worthy jam on "Standards," with Metasota riding shotgun, while violins and chipmunk-soul vocals provide the proper climaxes on "HI LAKE."  Mike the Martyr, no matter the weather gives Manny a proper southside soundtrack for him to weave intricate tales.
Manny Phesto narrates a proper and accurate description of his neighborhood.  Much like Nas plays Picasso with the 41st Side of Queens, Manny does justice with documenting the southside, especially on "Full Scope" with a guest verse from Akrite of TUSS fame, while "Cedar Ave" allows Manny to weave a world that you can touch, while the same can be said for "Eternity In The Cities," which provides a rooftop skyline view of the city from sunrise to sunset.  It's very hard to knock a project like Southside Looking In, which allows for both Mike The Martyr and Manny Phesto to deliver a project that hits on all cylinders, even with the cameos and interludes presented, because it manages to keep Southside Minneapolis as its focal point and place, and given that we're in the thick of summer, who could deny such a beautifully painted portrait of the Southside?
— Ali Elabbady (Background Noise Crew)
Manny Phesto will be celebrating the release of Southside Looking In with a release party for the album at Honey on Thursday, June 19th, 2014.  Joining Manny Phesto will be Tall Paul, Devon Reason, Joseph Collymore and DJ Frank Castle providing the sounds.  The event will be hosted by MaLLy and DJ Snuggles.  This free show starts at 10pm, and is an 18+ show.