Mike Mictlan "HELLA FRRREAL"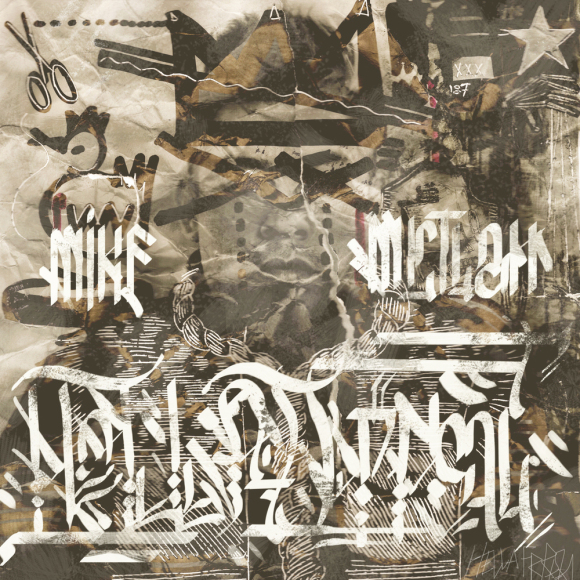 While Doomtree as a collective manages to continuously provide hard-hitting and wonderful releases at the drop of a hat, Mike Mictlan is easily one of the hardest-hitting emcees in the Doomtree collective.  His whirlwind way of pattern shifting and really taking in-the-pocket rhyming to soaring new heights, and the way he is able to manipulate words and hurl endless tongue-twisting syllables like an olympic gold-medalist discus thrower.  You need look no further than his verse on "Punch-Out," on 2011's "No Kings" as evidence of such.  To his credit, he's been doing this since his debutDeity For Hire, and with each stellar effort, he's proven time and again why he is a force to be reckoned with.
With HELLA FRREAL, his long-awaited third album (fourth if you count his collaboration with Lazerbeak under the name Hand Over Fist), he continues to provide personal reflections over hard-hitting yet abstract production.  For example take a look at the narrative provided on "CLAPP'D," where he's able to take the forever relevant topic of police brutality and racial profiling and breathe new urgency into it, akin to Ice Cube's "We Had To Tear This Motherfucker Up," whereas on the circus-like synths and twittering hi-hats of "SUPER'MERICA," he provides a reference point to his sophomore effort SNAXXX, all while keeping it relatively fresh in context.  Elsewhere on this effort, there's the lead-off "Benicio DEL TORSO," where light and airy harpsichords flutter and ascend over the cacophonous kicks and snares, while on "MID-WEST-COAST," he embraces his Cali and Minnesota roots in a relatively effortless and energetic manner, over a beat that gives a polite nod to the current production aesthetics of DJ Mustard.
Not only does Mictlan prove time and again over the course of this 40 minute LP that he's still in wholehearted beast-mode, the production palette provided by 1990, JuanL, Mike Frey, Lazerbeak, RedVelvet Beats, Cecil Otter, and 2% Muck, to name a few, help HELLA FRREAL stay banging, even with repeated listens.  Not to mention, the cameos from Greg Grease on "JUNIOR BLIND," Aby Wolf on "LESS'TALK," and Ceschi on "SELL-OUT" keep things consistent within this world weaved by Mictlan. If you're seeking something amazing that will whet your appetite until the next crew record, then look no further than HELLA FRREAL.
Mike Mictlan's HELLA FRREAL will be released on October 27th, 2014.  There will be a release party for the album on Saturday, November 1st at the 7th Street Entry.  Sims, Mac Irv, Mundo Libre, and Ander Other will be performing along with Mike Mictlan.  Doors are at 9pm for this 18+ show, and tickets are $10 in advance, and $12 at the door on the day of the event.  Take a listen to CLAPP'D below.
– Ali (@egyptoknuckles, CEO Background Noise Crew)
[soundcloud url="https://api.soundcloud.com/tracks/165382934″ params="color=ff5500&auto_play=false&hide_related=false&show_comments=true&show_user=true&show_reposts=false" width="100%" height="166″ iframe="true" /]