Live Blog: Black Sabbath 'The End' Tour Stop at Target Center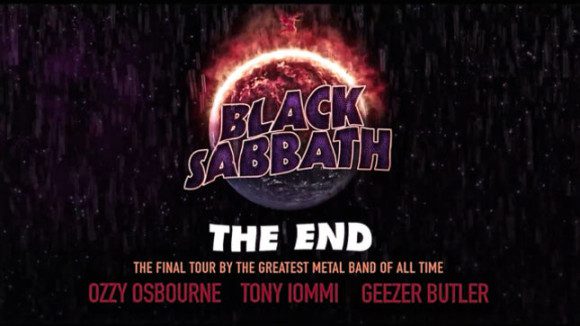 8:16 – It isn't a real arena show unless a guy trys to sell you a bootleg t shirt in the parking ramp.
8:18 – I declined the T shirt, even though his "$20 here and over $40 inside" pitch was quite compelling.
8:28 – There is a no line for men's urinals, but long line for stalls. Drugs? Or are Sabbath fans shy?
8:31 – Adam bought a pretzel. Living the dream.
8: 36 – Do you think in 1970 Ozzy thought it would all end in basketball arenas? I bet not.
8:42 – lights out. Here we go.
8:45 – opening videos to pump up the crowd work for all ages and demographics, apparently.
8:47 – "Black Sabbath" sounds gigantic, even in an echo-y stadium.
8:52 – Ozzy saying "I love you all" and goading the crowd to clap along is delightful.
8:54 – "Fairies in Boots" sounds muddy, but good. Digging deep.
8:57. – They should have just had the 2016 air guitar contest here. People are SLAYING.
9:00 – The heads seem a bit let down by "After Forever." Lots of people already taking beer runs. Gearing up, as they say.
9:04 – Ozzy "I can't hear you!" ….  I'm not sure of this is a ploy for the crowd or not. What if he really can't hear us?!?!
9:07 – The chugging riff of "Into the Void" has the devil horns back up.
9:14 – Ozzy has people waving their arms back and forth in the air during the riffs of "Snowblind." I feel like if he told people to do the macarena right now a good chunk of this crowd would follow his lead.
9:16 – Side note. This show is good….should I have bought the bootleg t shirt??
9:22 – "War Pigs" will always rule. The best.
9:24 – War pigs. War pigs. War pigs.
9:29 – Now they are playing "Behind the Wall of Sleep," but did I mention "War Pigs" yet?
9:43 – Now "Hand of Doom." Not much for me to say. Sounds like Black Sabbath. "NIB" was cool.
9:48 – "Rat Salad" with the full, ugh, drum solo. Ugh. I'm not sure the drummer even likes drum solos. Make this stop. We need more riffs. Save us Tony!
9:54 – Ah yes, "Iron Man" fits the bill.
9:55 – Also, I just got a beer spilled on me and a 20-something a few rows down is trying to fight a mom, dad and their kids who were mad he was drunk and swinging his arns and hitting the daughter. Yep, this is an arena show.
10:00 – We are still doing fine, Ozzy, stop asking.
10:04 – Fighting guy got kicked out. His friends has a super long wait trying to decide if they were going to go with him or catch the end of the show. Black Sabbath started playing "God is Dead?"…heady moments at Target Center.
10:07 – For a non-1970s song, "God is Dead?" is a solid choice. They really recaptured their sound on it. Stands (almost) toe-to-toe with classics.
10:12 – "Under the Sun" … Tony and Geezer really are riff machines. They cranked out so many amazing jams. Almost hard to appreciate back to back to back, as each is better than the best most bands will ever produdce.
10:21 – "Dirty Woman" Ozzy swinging his arms back and forth looks like a drunk person exercising. I'm not certain he isn't going to tip over. Bless him for running around for going on two hours. I'm tired ftom standing here.
10:25 — Black Sabbath branded confetti for the ceiling, a la a high school dance, as they tear into "Paranoid." Metal.
10:27 – It's hard to get the full "prince of darness" when purple and black confetti are reigning down.
10:30 Ozzy just asked the crowd to chant "one more song." He needs a hype man bigtime.
10:31 – "Children of the Grave" as the encore.