Sti-Lo Reel "Martial Law" review (Show THURSDAY!)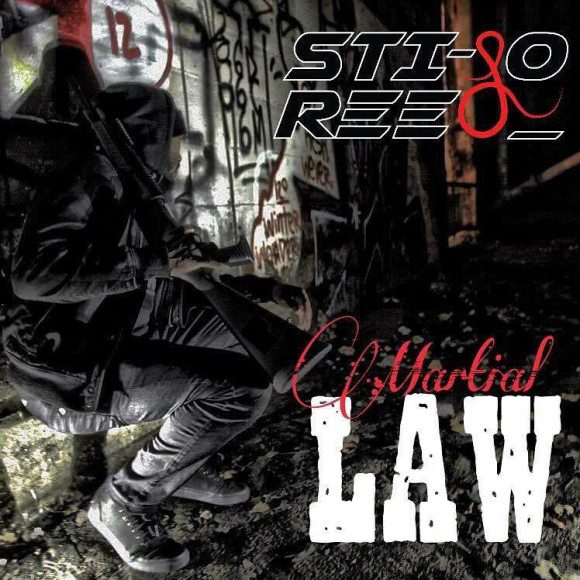 As a critic, the tail end of the year has one missing so many releases that tend to go under the radar for one reason or another. However, regardless of the tail end of the year, there manages to be releases that compel and demand your full attention, especially when its referring to relevant days and times we live in. With Sti-Lo Reel's fifth album Martial Law, one way it follows its trajectory of his discography is that not only does it pay homage to the revolutionaries that paved the way for radical change to occur, but Sti-Lo directly interjects himself into that discussion.
The production on Martial Law contains orchestratic elements with beating down your block knock of 808 kicks and twittering hi-hats courtesy of a short but talented cast from luminaries like Nicademus and Tek who provide the bulk of the album's soundscapes, such as the use of thrashing guitars on "Huey Shakur," or the anthemic bells and strings on "Preparing For Martial Law," and the palpable, yet start piano work on "Money," are just a few examples of how the producers on this project provide Sti-Lo with proper backing to allow his subdued and poignant delivery to steal the show.
Speaking of Sti-Lo, he hands out numerous jewels, hypotheses on the world's current state and what steps revolutionaries like Huey, Malcolm, and many others would teach to the current day state. Regardless of that, he's still able to reflect most importantly on himself and being the change he wants to see in the world, and nowhere is this more evident than on the song "Coretta" where over some soulful backing, he's able to describe the type of ride or die that he needs in life, or you can look at the menacing and matter-of-factly grinding anthem "We Might" with Tek, where Sti-Lo and Tek drop bar after bar of how the music industry treats those who have music with a message. Throughout the majority of Martial Law, Sti-Lo proves that he is a force to be reckoned with, and he is someone who can inspire and perspire through the numerous hurdles that life throws on a day-to-day basis.
Sti-Lo Reel will be performing with Ced Linus for his birthday celebration which goes down on Thursday, February 11th at the Cabooze. Special guests will also be present during the evening. This is an 18+ show, with doors opening at 8pm, and music beginning at 9pm. Tickets will be $10 at the door
— Ali, @egyptoknuckles