Do Look Back | Mustafa Ozkent: Glenclik Ile Elele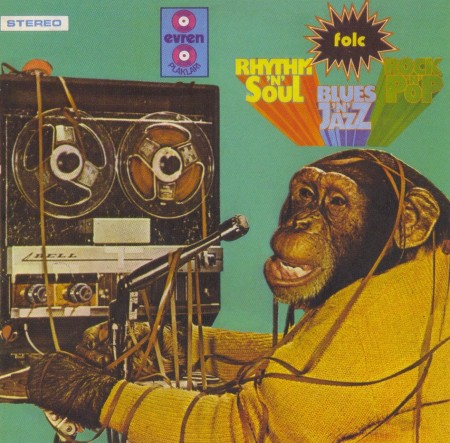 It is no accident that Turkish experimental savant Mustafa Ozkent's record Glenclik Ile Elele has cover art featuring a chimp monkeying around in a recording studio.  The Anatolian funk/psychedelic whiz was very much a tinkerer himself, inside the studio as well as out.  He even invented his own specially treated guitars that allowed him to mix up a traditional Turkish folk sound with the West's fuzzy, psychedelic rock and funk.  Despite becoming a popular fixture in Turkey's seventies experimental scene, much of Ozkent and his "Orkestra"s work has been lost or forgotten.  Luckily for us though, Finders Keepers recently re-released Glenclik, rescuing the LP (which actually translates to "Hand In Hand With Youth") from obscurity.
And listening to Clenclik today, it is pretty amazing just how incredibly forward thinking it must have seemed upon its original 1972 release.  The completely instrumental record features wickedly smart, fuzzed out guitar licks that sound as if they are coming from a heavily modified sitar, not to mention a tight twin rhythm section as well as organ.   The rhythms are particularly notable – including a number of long polyrhythmic sections that sound as if they were created expressly for use by future breakbeat DJ's.   Ozkent and his band expertly navigate from gritty psychedelic rock to sixties lounge, as well as a healthy dose of hard hitting funk – all under the unmistakable umbrella of a traditional Turkish folk sound that lends an element of exoticism to the pop tunes.
Listeners familiar with the recent resurgence of interest in forgotten Anatolian records might notice a similarity to Selda Bagcan, whom also got the Finders Keepers treatment (and whom we also covered here).  Like Bagcan, Ozkent maintained strong ties to his geographical roots while experimenting wildly with what modern music had to offer.  Glenclik Ile Elele is an old classic, lost and forgotten, but thankfully now returned.  Hopefully with Finders keepers' help it can retake its rightful place as a new classic.
— Jon Behm
Purchase Glenclik Ile Elele here
Read more info on Mustafa Ozkent here
.