Memorial Show for Blood Of The Young's Nick Thompson Announced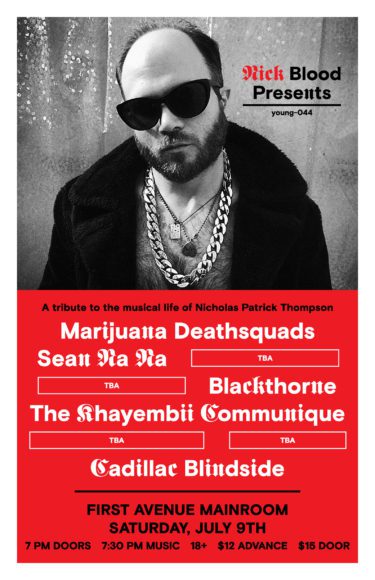 We tragically lost Blood Of The Young founder Nick Thompson earlier this month just about a week shy of his 37th birthday. His enthusiasm for music and spirit were rarely seen and he leaves on a long legacy of records he put out over the last decade and a half.
Nick's friends have put together a cannot miss lineup to celebrate his life in the First Avenue mainroom on July 9th. Reunions from the Khayembii Communique, an additional Cadillac Blindside show (who are getting back together earlier to open for Motion City Soundtrack), a rare Sean Na Na show and a bunch of more surprises mixed in with Marijuana Deathsquads and Blackthorne. Keep a look out for further announcements.
Blood Of The Young started in 1999 with a 7″ release by local screamy hardcore band The Khayembii Communiqué and went on to release and co-release a solid body of work from similar minded bands like The Book Of Dead Names, Song Of Zarathustra, Neil Perry, The Vidablue, The Faint, Bright Eyes, Cadillac Blindside and many more through 2004. The label re-emerged a couple years ago in 2013 and has been releasing a steady stream of vinyl including Qui, Father You See Queen, Tickle Torture and Marijuana Deathsquads. A Fort Wilson Riot/Pornono split 12″ will be officially released later this month. The complete discography can be found on the label's website.
-Adam
Writer / photographer / Reviler co-founder