A Interview with YYY about their new 'Tribute to Pet Sounds' LP (Release Show WEDNESDAY!)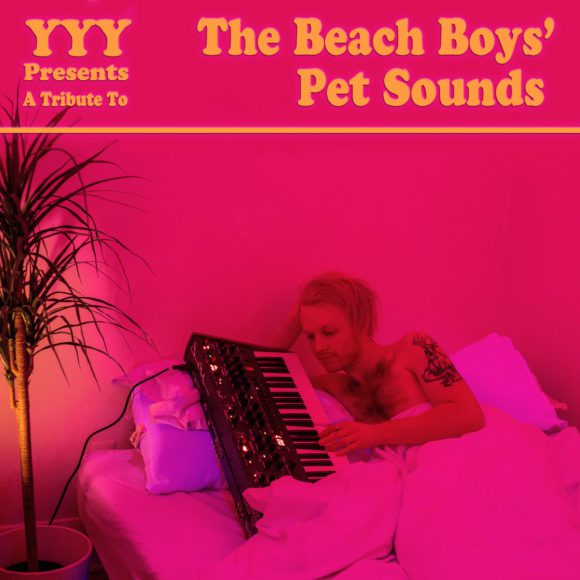 Local artist YYY has pulled together an eclectic cast to cover the classic Beach Boys LP Pet Sounds, with proceeds from the record going to support Planned Parenthood. Below you will find a short interview with YYY about how the album came to be, what to expect at the release show and what is next for the YYY project. You can listen to the LP at the bottom of this post, and help celebrate the release Wednesday (7/19) night at Icehouse, which promises "intimate sets from performers featured on the record, as well as an album listening." More info and tickets HERE.
Reviler: Tell us about the album. Why Pet Sounds? What motivated you to do this and make it a benefit record for Planned Parenthood?
YYY: I've always adored Pet Sounds. Its a masterpiece to me. It has this sad pop "psychedelic with out being overtly psychedelic" quality that always drew me in. So initially this record started as just me doing a cover song ("Thats Not Me") as an exercise to break out of my normal creative routine and step into someone else's songwriting. I ended up having a lot of fun doing the first song so that kind of sparked the idea of doing the entire record. I know "Pet Sounds" front to back as a listener so I thought it would be interesting to get under the hood and add my own flavor to it. The next song I did was "Caroline No" which was difficult because I was having trouble singing in that key. I hit up Jenessa LaSota instead to sing it, which got the idea of having guest vocalists for each track. So I then decided to try and get as many of my friends on the record as I could. I worked on the record for about 30 hours a week from August to February. From the start my intent with this album was more so a "this is what I can do" approach versus trying to make a bunch of money. So that being said I decided to donate the proceeds to Planned Parenthood because those clinics are an absolute necessity for many of us and the fact that they're getting defunded is fucked.
Reviler How did you pick the artists to join you on the record? Were you surprised by anyone? Any secret Beach Boys fans you found?
YYY: Well when I started running with the guest vocalists idea I immediately started thinking of all of my friends that are great singers and kind of mentally fitting each person to a track. Since a good amount of my friends make music in one shape or another it was actually pretty easy to find people for the whole record. I was surprised basically the whole time for how on board people were with the project. I was already good friends with the majority of the people on the record but with Fort Wilson Riot I actually just hit them randomly on Facebook one day to see if they'd be into it. After swapping a few emails back and forth they were down to do it. When they came over to record I found out that Jacob was a huge Beach Boys fan and had actually already written out all of the vocal harmony lines for "Good Vibrations" on his computer before coming to record which kinda blew my mind haha.
Reviler What can people expect from the release show Wed at Icehouse?
YYY: The shows gonna be pretty eclectic. I'll be debuting my solo material as YYY (originals). All of the artists are doing stripped-down sets so it'll be a much more intimate vibe. Were gonna do an album listening midway through the night to which we have live visuals to go with it. I decided against trying to perform the record live mainly because since its so heavily produced. In order to perform it live we would have to recreate it, and I already recreated Pet Sounds once lol.
RevilerIs this a one-off, or do you think there may be more albums like this in the future?
YYY: This is definitely a one-off situation. As of right now I have no intention on doing another cover album. I do however have interest in making more music with all of my friends but all original material.
Reviler If not another cover album, what projects are you working on next?
YYY: I actually have 2 solo records I'm working on right now, one of which I'm about 10 songs deep into. I don't wanna speak to much on them yet but hopefully I'll have another full length out by this time next year. I also love playing the producer roll (obviously) so I want to produce other peoples albums in the meantime as well.