We Went There: The Soft Moon at the Turf Club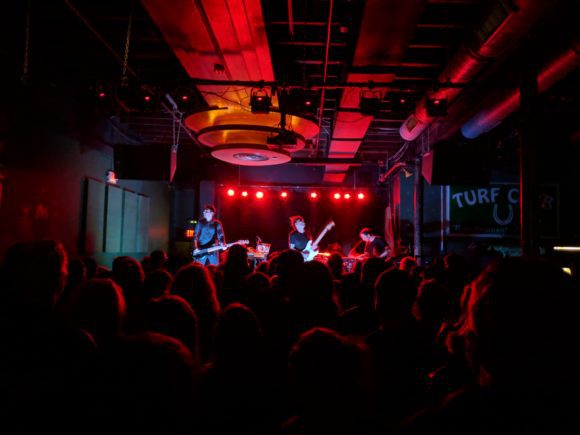 Photo by Richard Arnold
Live shows get a lot of hype for being transformative experiences. Bands that you might otherwise find boring can seem fascinating in stage lights. Adrenaline, sweat, and the immediacy of the performer sear forgettable songs into your memory. Artistic compromises made to actually play the music live can produce more evocative and creative sounds than the recording studio does. Expecting any of these things to come true is setting your heart to disappointment. My low expectations made for an enjoyable time on a snowy Monday night at The Soft Moon's Turf Club show.
The Soft Moon's music works best when it sits in between post-punk jangly guitars and throbbing EBM industrial; happily pillaging strengths from both genres while not being blinded by the backwards gaze that permeates the works of artists in either. The new album – Criminal – mostly fails to capture the band's previous quality. The resulting record is populated by a few great songs, but a majority that are quickly consigned to being skipped forever. "Like a Father" is the only one of the tracks in this latter category that benefited from the extra angular guitars, and more aggressive percussion of The Soft Moon's live configuration. Having the better tracks like "Burn" right next to them would drive home the shortcomings of some of the other new material. The Soft Moon's 45-minute set seemed to concede this point without much protest. Most of the songs were pulled from their much more impressive back catalogue of material. Even the two song encore pulled from Deeper and Zeroes.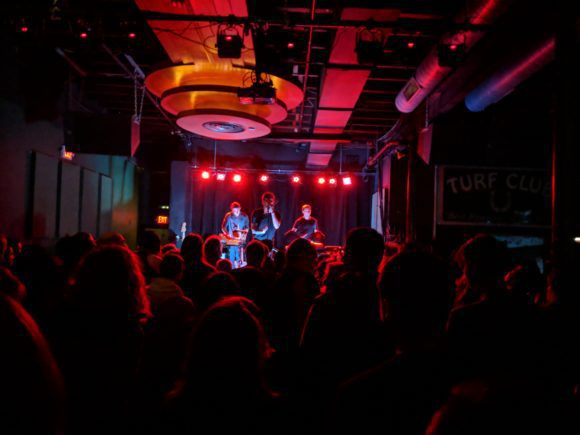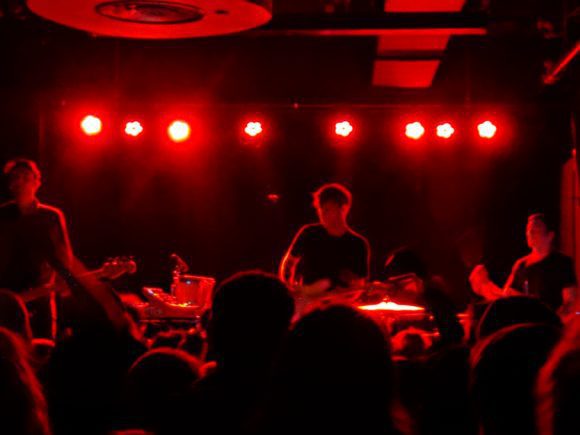 Photos by Richard Arnold
All of this might sound like a negative impression, but the sour notes are only due to the lackluster quality of The Soft Moon's new album. This is still one of the best industrial post-punk bands around. Luis Vasquez is still an absolute pleasure to watch, delivering a barely contained frenzy of activity, and effortlessly joking off the drunken shouts from the audience that popped up in between songs. The trash can and goth bongos from previous tours are still there. Vasquez somehow makes what could be two joke instruments into tools that seem absolutely necessary. Everyone in the band played with an intensity and drive that bore the songs beyond the weaknesses of their recorded forms, but even the best performance lacks the power to turn boring into gold. Going into the show with the mindset that some of their songs would be unbearable meant that it was easy to shove them to aside, and enjoy the band at its most rapturous.
The Soft Moon's excellent performance owes no small debt to openers Boy Harsher. Boy Harsher's music is the kind of coldwave that holds you in the comforting embrace of a decades-long friendship. On recordings, none of the tones or rhythms used by producer August Muller come across as particularly innovative, and Jae Matthews's vocals, while excellent, are the sort of restrained sultry alto that now feels almost standard for dark music. It is music that always struck me as good, if not particularly remarkable. Boy Harsher live is something altogether different. The music is still comfortably recognizable, but punctuated with more noise and experimentation. Muller would occasionally pull out an electronic saxophone for atmospheric layering. This seemed like a huge escalation in the goth utilization of beatnik instruments, doubly so with The Soft Moon's bongos set up so close by. Matthews's performance, though, was the best part of the entire show. Songs like "Westerners" and "Pain" were punctuated by shouts and screams. The extra aggression gave their music more space to shine, and made her more soulful rumbling that much more poignant. Seeing Matthews blend the genre's Nico worship with Alan Vega's dynamic energy was incredible. A band that can put on a captivating show while being mostly a synthesizer rig and a MPC is a band doing something right. I hope this side of Boy Harsher can make its way to their recordings because this show made them feel like they are on the verge of capturing something phenomenal.
— Thomas Kwong (The Locust Lecture)