City Counselor: The Work That Tools Do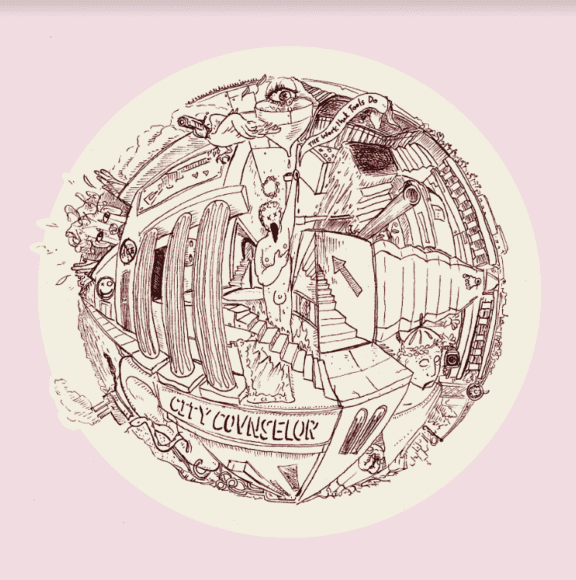 If there is any silver lining to what feels like living in a civilization teetering on the edge of a massive fall, it's that is has made for fodder for some very worthy art. The latest of such comes from a new EP from local band City Counselor, hot on the heels of their excellent breakout (and cleverly named) album Public Record.
The Work That Tools Do is the first music that City Counselor has recorded as a full band. Originally just the solo project of Nicky Steves, the band now also includes Amy Hager (keys and vox), Antoine Martinneau (bass) and Jared Hemming (drums). In addition to recording their debut last year the band was also the recipient of the Cedar Cultural Center's coveted arts commissions, which resulted in a work that included a choir and orchestra.
While a bit less ambitious when it comes to the number of hands on deck, City Counselor's new songs have a political and cultural ambition that more than makes up for it. In their own words the band says the songs "[speak] to the moral ambivalence of the structures and practices of our society, and the damage that results from that lack of accountability." In the crosshairs is a broad swath of societies' ills: gun violence, the patriarchy, gentrification, privilege, and so much more!
And sure, that might sound like a bit of a lecture. But I haven't gotten to the music yet, which is pure dance pop with elements of funk and a few lefthand turns to keep things interesting. Steves has a keen ear for melody and while the points are definitely getting made, they are never getting made at the expense of what ultimately is danceable, fun music. Listen to the message, and definitely go out and vote next week. But, also enjoy the tunes – they are pretty damn catchy.
— Jon