Best of 2020: Adam Johnson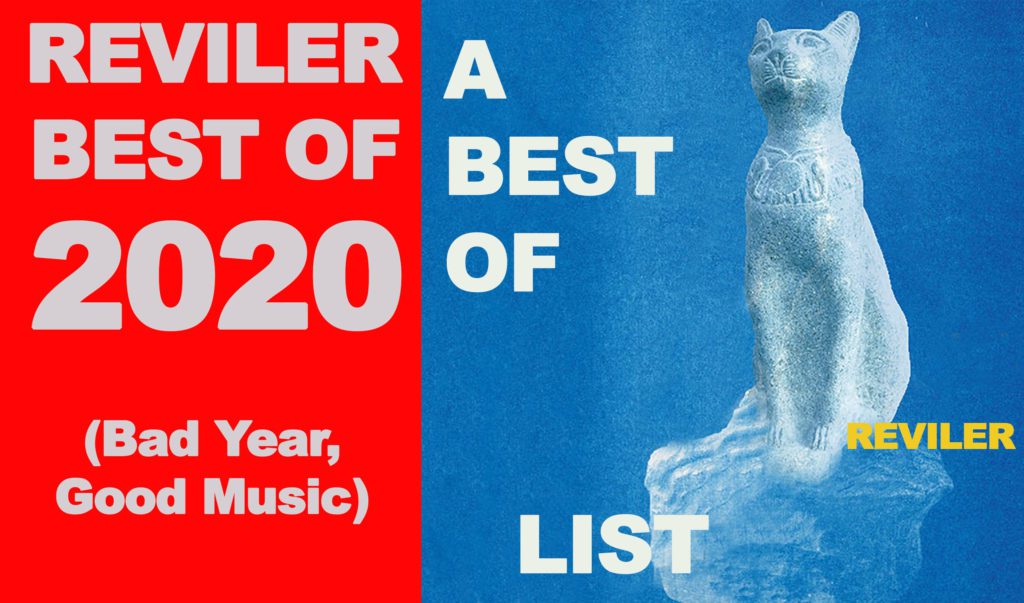 Let's not sugarcoat it: this year sucked. We'll leave it to better writers and bigger thinkers to make context of this smoldering heap of a year, but we at least have some thoughts on music that came out this year. Check out Reviler contributor Adam Johnson's favorite music and reissues of 2020.
Best Albums
Body Count – Carnivore
The original gangster's heavy metal mouthpiece achieves its most potent form after almost thirty years. Maligned as a novelty by haters and critics, Ice T and crew brutalize tales of gang activity, police violence, and loss with the passion and intensity of an act half their age.
Run The Jewels – RTJ4
El-P and Killer Mike say sooths so sweet and salient they may as well be mystics. While the breadth of the album was composed and recorded in 2019, RTJ4became the timely soundtrack of 2020, fucked as it all may have been.
Greg August – Dialogues on Race
Engrossing and often devastating, bassist/composer Greg August creates a series of "conversations" between poets, activists, and musicians that focus on love, hate, and everything else in between. Though not as accessible as offerings from more mainstream practitioners (Ambrose Akinmusire, Joel Ross, Antibalas, etc), these pieces are essential listening for anyone who identifies as American.
Fiona Apple – Fetch the Bolt Cutters
Fiona Apple is pissed and she's not afraid who knows it. There were multitudes of powerful releases from female artists this year (Nicole Atkins, Lilly Hiat, and Raye Zaragoza just to name a few), but of what I heard, none hit quite as strong as Apple. Her songwriting is on point and her performances are emotional and fierce, making this a timeless release in a timely time (sorry). "Kick me under the table all you want/I won't shut up" – we need more artists like Miss Fiona.
Busta Rhymes – Extinction Level Event 2: The Wrath of God
I'm admittedly not much of a hip-hop head, but when I hear something I like I don't let it go. Busta has been a constant in my periphery for over 20-some years and he absolutely slays throughout this sequel to his samely timely Extinction Level Event: The Final Front. Boasting the sole 2020 feature from mic messiah Kendrick Lamar, and narrated by none other than super-fan superstar Chris Rock, Busta Rhymes's latest reminds us why he is one of the true Old Gods of rap that can still decimate when he sees fit.
The Beths – Jump Rope Gazers
If New Zealand ever starts monetizing their musical output I bet they could become the largest economy in the world. The Beths understand the joy of rock-and-roll as well as the attitude, relishing their pain with plenty of harmony and ripping guitars. I like it quite a lot.
Dope Body – Crack A Light
"Noise rock" has been boring me to tears as of late, so this crooked slab of riffs and rigor was a welcomed surprise. No one else sounds quite like Dope Body (Canada's Daughters notwithstanding), and I like it that way.
Shabaka and the Ancestors – We Are Sent Here By History
2020 was inundated by great, great jazz music, all of which spoke to the humanity we all so desperately have been clinging to during this, the end times. This passion project from saxophonist Shabaka Hutchings (of London's already fantastic The Comet Is Coming) was probably the most focused, alluring, and enjoyable.
Kaki King – Modern Yesterdays
As a bumbling guitarist in my own right, artists like this are why I keep seeking the wanderlust with six strings and an amplifier. Every time King decides to grace us with her output it seems she has rewritten the book on popular guitar, even inventing many new and evocative ways to share her vision. I don't have much else besides metaphors and superlatives, because the Da Vinci of modern guitar has done it again.
Thou – Blessings of the Highest Order
Like the rest of us, New Orleans doom troupe Thou sought comfort during 2020 and indulged the way anyone of their demographic would: they covered their favorite Nirvana songs. Was it necessary? Not quite. Is it a good time? Oh my, yes.
Best of Local
New Primals – Horse Girl Energy
Beach Mountain – Pine Tar
Flavor Crystals – Five
Superheater – Beaut
Harper's Jar – Thank You Ancestor Finger
Extraterrestrials – I & II
Double Grave – Goodbye, Nowhere!
I Could Live In Hope – Psa, Not Ok