We Went There: Stereolab + Fievel is Glauque at First Avenue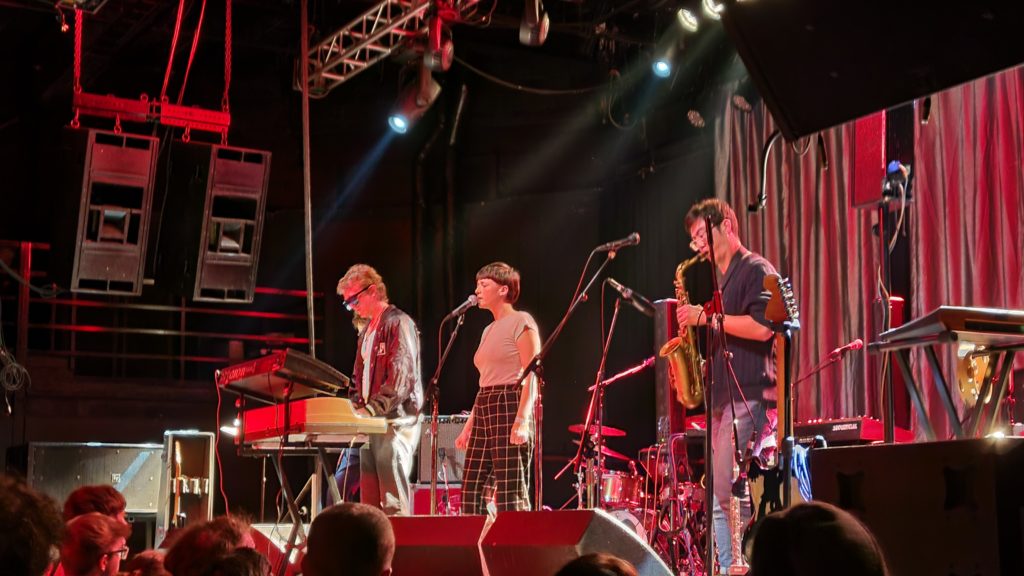 There were touches of grey (or where grey would have been) scattered throughout the mostly-full First Avenue Mainroom Wednesday night for Stereolab's return to Minneapolis, but any indication by the, ahem, more "vintage" crowd that the music would be lacking dynamism was quickly put to rest and disproven throughout the enjoyable, genre-stretching night of outstanding music.
Opening the show were five piece Fievel is Glauque, an expansion of the duo Zach Phillips and Ma Clément who record music that is Stereolab-ajancent. Their music is less forceful and all-encompassing than the headliner, but they were a fascinating combination of youthful seriousness and smart, jazzy arrangements that centered around lead singer Clément's confident, sultry vocals.
The band used one break to say they were all feeling tired, but the group had a good energy during their 40ish minute opening set that combined coffeeshop art pop, breezy library music and, in a twist I didn't see coming, a flute solo. The whole sound centered around the duo who create the band's music, but all eyes were on Ma Clément, whose confident vocals were in contrast to her shy demeanor, often with one arm folded over the other, almost holding herself in place. Their music was a great setup to Stereolab, matching the general tenor of the headliner the crowd was there to see all while still venturing into different and fresh territory.
With only the two bands on the bill, it didn't take long for the crowd to fill in and Stereolab to hit the stage to a rousing ovation that seemed to genially move leader singer Lætitia Sadier. This was a clearly a crowd of die hards, showcased by lines at the merch table stretching back into the bar area consistently throughout the night. Much vinyl and t-shirts made their way out into a brisk fall night, it is certain.
Starting with the spry "Neon Beanbag," the band played a high-energy set that covered close to 20 songs and lasted a solid hour and forty five minutes. Their catalog is both deep and wide, and they ventured into various corners of it throughout their set, with band leaders guitarist Tim Gane & guitarist/keyboardist/singer Sadier backed by their famous motorik drum beats, lush keys and some locked in, marching basslines.
Their music can wander, for sure, but it always brings the listener home. Highlights included the charming mid-set exploration of "Miss Modular," to sunny psych pop of "delugeoisie" and the riveting three song encore that included a fractured start of "French Disko" that nonetheless kept the crowd buzzing from start to finish. As fans of their music know, there aren't many soft spots in their catalog, so even for the songs I didn't recognize I found it easy to let myself float away inside the chugging grooves, ornate melodies and Sadier's hypnotic singing.
Seeing the band enjoying themselves, finding nirvana in their blend of pop melodies, cosmic grooves and world-hopping songwriting, was a real treat. They certainly could coast on their reputation at this point, but I didn't sense that at all. Both from the show and their continued diving into their vault to bring out interesting nuggets from their past, they are a band that know they have a strong foundation but don't seem to have any interested in stopping their adventures. I have wanted to see them live for a long time (and seeing the average age of the crowd was a reminder that they've been creating music for a long time) and they did not disappoint.