Concert Review: Julian Casablancas @ First Avenue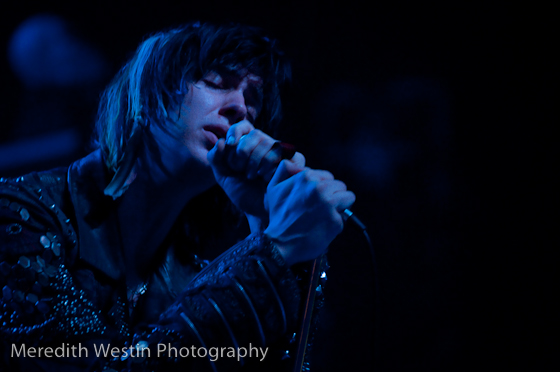 Julian Casablancas declares Minneapolis, "Fucking Rad."
Julian Casablancas showed up at First Ave last night with a bunch of dudes that were not The Strokes. Yet, with or without his normal outfit, he had no trouble winning over a small yet ravenous Minneapolis crowd.
Casablancas seemed genuinely impressed with his reception, asking early on "What the fuck?!" stating "You guys are fucking rad," and repeating multiple times that Minneapolis is "the best city we've played, by far."
The show was brief – under an hour with encore included – which could have been expected given the fact that he's touring behind an album with 8 tracks. That album – 2009's vastly underrated, if awkwardly spelled, Phrazes for the Young – is Casablancas' first non-Strokes project, though it bears all of the hallmarks of a Strokes album and leaves little doubt who is the primary songwriting and creative influence in that band. Casablancas performed 7 of the album's 8 tracks including standouts "Out of the Blue" and "11th Dimension," leaving out only the album's ultimate track, "Tourist."
Casablancas started off with a new, (somewhat forgettable) untitled song, and fleshed out the set list with a pair of Strokes songs, including a beautiful version of the "Heart in a Cage" B-side "I'll Try Anything Once," and an urgent rendition of "Hard to Explain" from the debut Is This It? Hearing that song live makes it hard to believe that that album turns 10 next year.
Casablancas ended with his, admittedly "somewhat inappropriate" cover of the SNL Christmas song "I Wish it Were Christmas Today," which worked better than you would imagine given that the song was composed for performance by Horatio Sanz, Jimmy Fallon, Tracy Morgan and Chris Kattan in matching red snowflake sweaters.
While the backing band was just that – in the background, Casablancas showed why he's one of the best frontmen in the business, and whetted more than a few appetites for a (hopefully not-too-far off) return to his "new favorite town" behind a fourth Strokes album.
— JH
— Photos By Meredith Westin