We Went There: W.I.T.C.H at The Bluebird Theatre (Denver)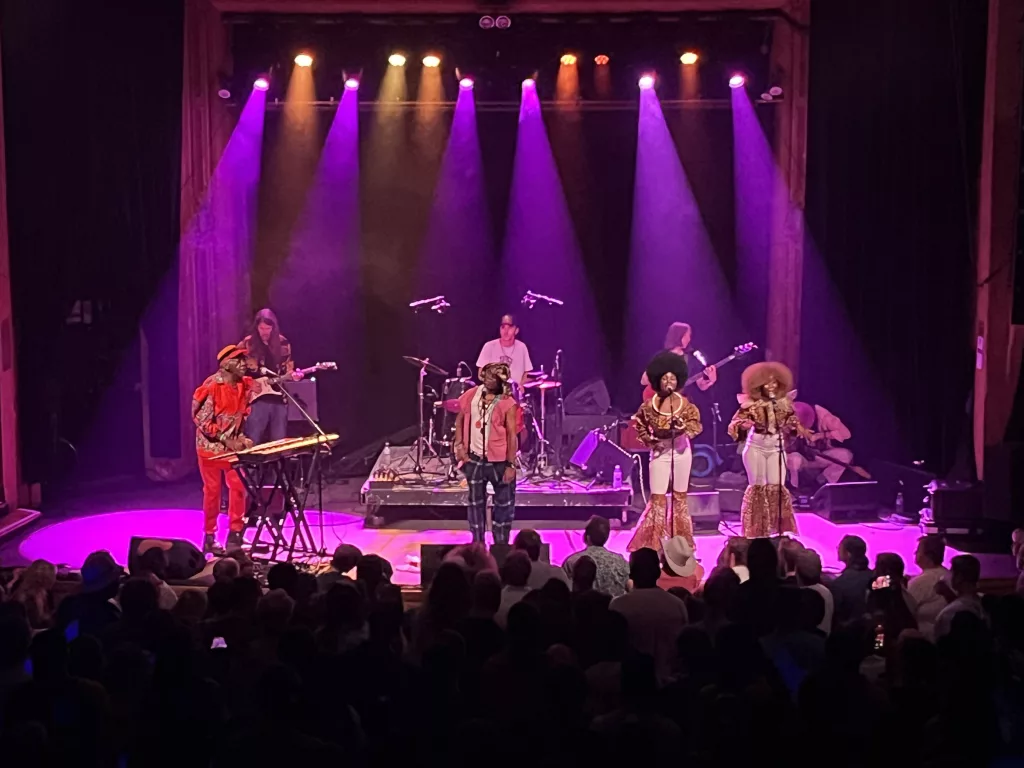 W.I.T.C.H, the legendary 1970s Zamrock band who rocketed back to fame just over a decade ago when their original music got widely reissued to mass aclaim, are living up the continued second life with a new record and tour behind original lead singer Emanuel "Jagari" Chanda. The band brought their classic psych-rock sound to the Bluebird Theater in Denver Wednesday night for an amazing show that showcased the sound that has now made them famous across two generations.
Joining Chanda on the tour were Patrick Mwondela on keyboards, Theresa Ng'ambi and Hanna Tembo on vocals and a four piece band of young artists filling out the sound (including opener Jacco Gardner on bass). Performing songs from their classic catalog and tracks from their new (Gardner-produced) LP Zango, the group shined across 17 sweaty, high-energy songs at the Bluebird. Their music, called Zamrock, has a funky groove and classic rock riffs, with Chanda leading the way as the band's soulful ringleader. It seems from reading their site that Ng'ambi & Tembo haven't been on the whole tour, and that's a shame for those who missed them. They helped round out the songs with their background vocals, brought a beautiful energy to the stage with their effervescent dancing and even took over for a few songs on lead vocals midway through the set.
The backing band did a nice job of stepping back out of the spotlight while still keeping a tight groove, with the drums and bass locking in to allow the guitars to burn through the mix with a blend of wah-d out riffs and searing solos when called upon. Mwondela, the late-first-era WITCH member who was on keys also deserves a shoutout for his deft playing on keys, helping to drive forward the sound with sounds that ranged from funk to blues to new wave. The whole group proved much more than a tribute act, showcasing a music that now rightfully is seen as both ahead of its time and, especially with their new album, still able to blow the doors off a venue.
Opening the night was the previously mentioned Jacco Gardner performing under his Metius alias. He played a heady set of koschmie music that had strong E2-E4 vibes that mixed a cool light show with some serious arp-ed out analog synths. While WITCH brought us back to 1970s Zambia, Metius used his DeLorean to time travel back to mid 60s Dusseldorf. I very much loved the set as the genre of music being mined for the set might be my favorite genre of all time, but even I will admit it felt a little strange seeing a 40 minute set of instrumental electronic (non dance) music before a crowd ready to get funky. The crowd seemed to enjoy it, and I've discovered a new band I now have listened to a ton, but I couldn't help but think during the set what a more upbeat and outward looking opener would have done for a crowd who proved very ready to dance during the headliners 75+ minute set. Overall it was a wonderful night that showcased the breadth and depth of what music can be.