Live Review: Mark Lanegan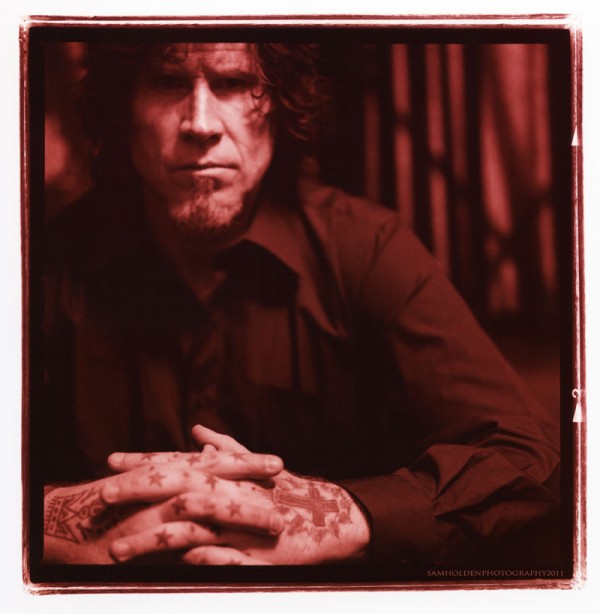 Mark Lanegan's voice is a monster. When I hear his powerful, commanding voice on record, it conjures up vivid, often bleak imagery. For me, it often involves dark rooms cut only by flickering candles, lots of cigarettes and whiskey, a steel chair and for some reason old industrial machinery. While I had seen him live before with Queens of the Stone Age and the Gutter Twins, I have never had a chance to see him performing the material that has made him one of my favorite artists of the last decade and a half. Seeing him on Friday night with the Mark Lanegan Band was a powerful experience, one that offset previous thoughts on his music at points, but ultimately reaffirmed what a singular and amazing artist Lanegan has been and continues to be.
Lanegan looks the part of a weathered 90's grunge dude. The bands stage attire followed Lanegan's lead and was heavy on black. As in previous times seeing him, Lanegan is about as charismatic as a deck chair, but his stoicism and focus only added to the controlled chaos his crack band was producing. During the songs, his left hand rarely unfurled from the mic and his right hand held on to the mic stand for dear life. He leans slightly forward towards the crowd, as if leaning into a punch, and outside of one thank you and introducing each band member, he saved opening his mouth for singing. The band was solid if nondescript, except for the rock-a-billy looking lead guitarist Steven Janssens, who seemed as inclined to showboat as Lanegan seemed opposed. Hearing songs from his whole back catalog, including material from a personal favorite Field Songs and some of his seminal work with The Screaming Trees, brought life to his tracks. Seeing Lanegan the human being singing classic (at least to me) tracks like "Hit the City," "Resurrection Song," "One Way Street" and the crushing closer "Methamphetamine Blues" really grounded these previously otherworldly tunes. No longer were these tracks sung by some gravely voiced person from another planet, but they were fleshed out by a band and capped by by Lanegan almost inhumanly powerful voice. Despite his lack of energy (I am being kind in that description), the crowd seemed to eat up the nearly 90 minute set and punctuated breaks with "thanks for coming!" and "we love you!" I don't think I need to tell you that Lanegan didn't respond in kind, but just hearing this bleak and forceful songs in a setting where someone yells "We love you!" at the end was a jarring experience. The bulk of the set was focused on material from Lanegan's new 4AD released record Blues Funeral, which finds him reaching into a more electronic, even Joy Division territory. While the new album isn't my favorite work he has done, many of these songs (especially "Gravediggers Song," "Grey Goes Black" and "Bleeding Muddy Water") sounded excellent live and were great additions to his catalog.
Seeing Mark Lanegan performing his solo work has long been on my "to do" list, and I am happy to say that I wasn't disappointed. The 90 odd minute set was powerful and commanding, no small feat when you have the anti-James Brown leading the charge. Hearing these songs live, especially the older material, was an experience that was hard to describe. While my previous reference point was listening to Field Songs late at night and conjuring up rattling chains or dark and spooky landscapes, now there was a human being attached to these dirges. While that human being appeared to be wound as tight as a spring and not someone I would want to mess with, there still was someone made of flesh and bones delivering these songs. The hurt, regret and anger attached to the tracks was now tied to the somber and intense guy up on stage who barely needed to open his mouth to let out his earth shattering howl yet seemed remiss to make eye contact with the crowd. All of these conflicting messages weren't helped after the band left the stage for the last time and it was announced Lanegan would be over at the merch table shortly to meet fans. Signing autographs and taking pictures with pasty Minnesotans at the Cedar Cultural Center was never part of my mental imagine of Mark Lanegan and his haunting music. While my equilibrium was knocked off a little, I left the Cedar content that Lanegan was and is one of the best singers around and glad I had finally seen his solo material in the live setting.