Ty Segall and Mikal Cronin: Reverse Shark Attack Review
80/100
Ty Segall is nothing if not busy.  Shortly after releasing not one but two of the better albums of the year in 2009 in S/T and Lemons, the San Francisco garage rocker is already back with new material.  This time Segall has teamed up with Mikal Cronin (Charlie and the Moonhearts) and their collaborative LP out on Kill Shaman is titled Reverse Shark Attack.  The album is a fast and loose collection of ten surf inflected rock songs, as fed through a gauntlet of distortion and effects pedals.  The music is a little less polished than Segall's earlier work (if anyone could ever call his music "polished") and comes across as more of an unconstrained jam session than a tightly constructed record.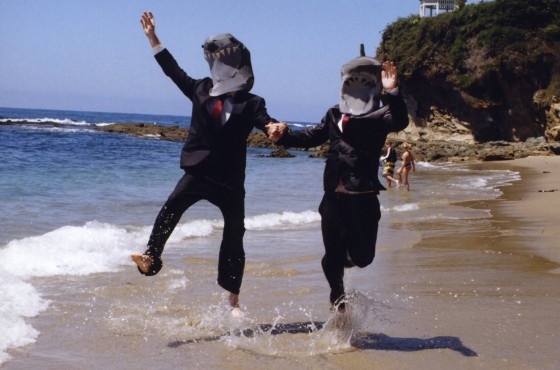 The record jumps straight out of the gates with "I Wear Black" and anthemic swirl of psychedelic haze tethered to pounding bass guitar.  Like most the record's material, the song's vocals are largely out of focus, floating along in a fog of distorted sound effects while the instrumentation whirls on ahead.   "High School" sounds like the Ramones covering a Beach Boys song on acid – the undeniable hookiness of the psychedelic surf rock is still there – it's just being played faster and dirtier.  Probably the most interesting track though is "Reverse Shark Attack," which starts out as a Sergeant Pepper-esque jam, fades into a little quiet folk,  and then builds into some epic King Crimson influenced prog that then cascades into roadhouse surf before dropping off the edge into a chaos of guitars and drums.  It's a rollicking ride across space and time – never stopping in one place long enough to get bogged down.
If any fault at all can be found with Reverse Shark Attack, it would be that it sounds like either artist probably could have come up with this material on their own.  While Segall and Cronin's baritone and alto vocals layer pretty well, both artists are similar enough that their partnership doesn't really bring to light any wildly unexpected sounds or styles.  Still, for what they do though they both do very well – if you are in to garage psychedelia than you would be well advised to check this stuff out.
— Jon Behm
Ty Segall: Myspace
Mikal Cronin: Myspace