Dark Dark Dark: Bright Bright Bright / Tour Dates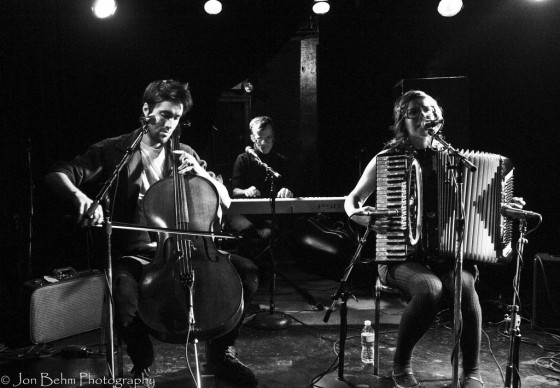 87/100
Woke up this morning to a pleasant surprise – one of the Twin Cities' best bands, Dark Dark Dark, has released a brand new EP cheekily entitled Bright Bright Bright.   I hope to listen to it in its entirety soon, but for now here is the first tune that they have made available, the self titled track.  The rest is available for purchase here.  
If the first song is any indicator, the EP is going to be fantastic, right up there with the band's stunning debut LP The Snow Magic, at the very least.   The mournful beauty and epic climactic build are really a pleasure to listen to on such a dreary winter day.
The band also just announced a nationwide tour that kicks off on Feb. 20th at the Hex, takes them throughout the South (with a SXSW stop) East, and Midwest, and finally culminates on April 15th back here with a concert at our very own Cedar Cultural Center. 
     — Jon Behm
Dark Dark Dark – Bright Bright Bright
02.20 Minneapolis, MN – Hexagon (The Annual Luc's Birthday Party)
03.17 Austin, TX -SXSW – Shout It Out Loud (Day)
03.18 Austin, TX – SXSW – All Your Friends (Day)
03.19 Austin, TX – SXSW – Annie St. Arts Collective (Night)
03.20 New Orleans, LA – All Ways Cafe
03.21 Pensacola, FL – TBA
03.22 Tallahassee, FL – Charles Mansion
03.23 Atlanta, GA – Wonder Root
03.24 Asheville, NC – LaRue's Backdoor
03.25 Charleston, SC – Eye Level Art
03.26 Richmond, VA – Cous Cous
03.27 Roanoke, VA – The Water Heater
03.28 Baltimore, MD – 2640
03.29 New York, NY – Le Poisson Rouge
03.30 Portland, ME – SPACE
03.31 Providence, RI – AS220
04.01 Boston, MA – Lizard Lounge
04.02 Brooklyn, NY – Union Pool
04.03 Pittsburgh, PA – Morning Glory
04.04 Columbus, OH – TBA
04.05 Lexington, KY- The Green Lantern
04.06 Louisville, KY – Skull Alley
04.07 Bloomington, IN – The Bishop
04.08 Chicago, IL – The Hideout
04.09 Saginaw, MI – White's Bar
04.10 Rock Island, IL – Huckleberry's Pizza Parlor
04.15 Minneapolis, MN – Cedar Cultural Center   
Myspace     Site