The Sunny Era: The Darkness of Love Review
70/100
I have mixed feelings about new Twin Cities band The Sunny Era.  On one hand they sound quite a bit like DeVotchKa.  I mean quite a bit.  In fact the similarities are downright glaring: the Slavic influence, the high tenor male vocals, the epic climactic builds, even the song titles are similar (one in Spanish, one in French, one Slavic sounding).  Even some of The Sunny Era's tracks seem cobbled together from pieces of Devotchka songs, for instance that accordion part at the end of "The Famous Tale of the Poetic Edda" (any relation to "Charlotte Mittnacht (The Fabulous Destiny of)?") sounds a lot like Tom Hagerman's violin part in "Queen of the Surface Streets."  "Cold Calculation" and "The Darkness of Love" both sound like they borrowed liberally from DeVotchKa's "How it Ends." And I could go on.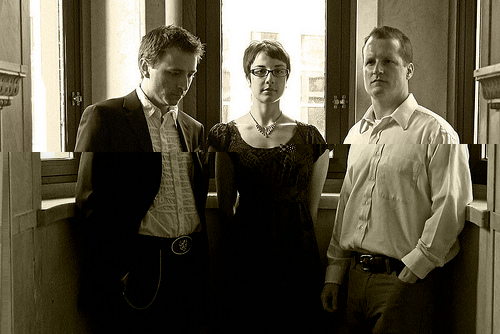 Now I am not trying to say that The Sunny Era is insidious enough as to try to steal another band's sound.  I think that what can happen though is if you admire another band to a certain degree you can probably unintentionally mimic some of said band's music.  Which brings me to the other hand: DeVotchKa happens to be one of my favorite bands so I can hardly fault The Sunny Era for liking them.
DeVotchKa influenced or no – The Sunny Era has a Eastern European influenced sound that mixes indie sensibility with the timeless sound of the old world.  Their debut record, The Darkness of Love, is out now, and comprises twelve well produced songs.  The accordion and violin feature prominently, and Eric Stainbrook's pained wail gives each track epic emotional weight.  While the front side of the record is more top heavy with Indie rock influence, to me the backside makes for better listening with pulse quickening tracks like "El Segundo" and "Set Me Free," which both have a looser, less restrained style.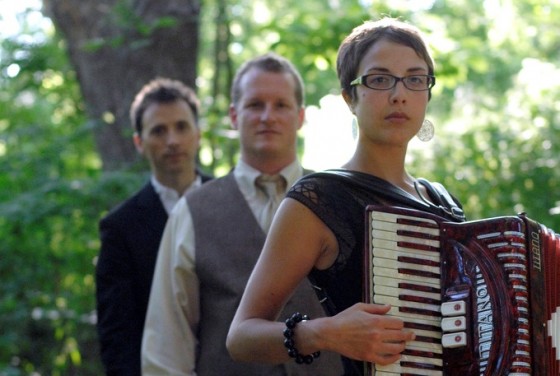 While I certainly hope that Darkness doesn't turn out to be The Sunny Era's apex in terms of musical quality, I am cautiously optimistic that they will have a bright future.  After all, DeVotchKa's first album, Super Melodrama, was total crap and look at the success they found afterwards.  Darkness certainly beats out that record by a country mile, so one can only hope that the future will be even brighter for The Sunny Era.
— Jon Behm
The Sunny Era's next show will be on March 21st at the Kitty Cat Klub