Buffalo Moon Wetsuit Review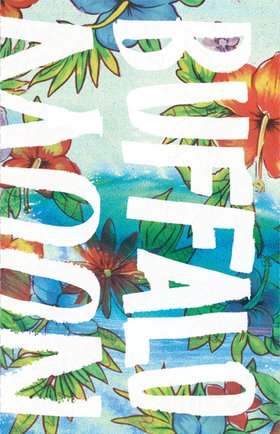 83/100
For those of you who are under the assumption that the new vogue musical trend in indie rock, all things beach or chill related, was only able to be successfully created by bands from the coasts, I present to you Buffalo Moon. The local 5 piece from our very own tropical paradise called Minneapolis (via South Dakota),have just released their solid debut, genre bending album Wetsuit. The album is a strong and diverse record that sounds like a summery jaunt that a less self-aware Devandra Banhart would love to write, melding traces of indie pop and Os Mutantes-esqe world beat into a compelling 11 song, 42 minute album.
The album is a mixture of a lot of different things, the sum of which helps to outweigh the separate parts. Wetsuit is a breezy album that bounces between jazz, bossanova, indie pop and twee, sung only part of the time in English (one of the singers is Ecuadorian). The music is light and fun, but still has an element of strong musicianship that helps it from wading into becoming elevator music. The singing of Karen Freire and Sarah Darnall are sweet but still pack a punch, really taking songs that would serve as great background music to a summer party and giving them some life for the more discerning listener. The only time the group lost me a little was when they got more serious, especially songs like "Walking", where they removed the childlike fun that made the rest of the album so enjoyable. Highlights include first single "Poolside Dreaming" and the quirky and fun "Iowa's Got a New Strip Club (Cat Song)," which I would highlight even if it didn't have such an awesome title.
Props also go to the band for making a fun CD package and reminding me why I will miss physical music when everything becomes MP3's. The album cover has a a buffalo in a space helmet floating over a beach and the inside sleeve has a thank you to "All Praise and Glory 2 the Most High—-Prince" before adding "Thanks 4 Nothing Norah Jones." In addition to writing breezy world influenced pop, they are pretty funny people, which never hurts. Wetsuit is the kind of album that doesn't fit easily into any well particular genre, but don't let that keep you away. Buffalo Moon have done an excellent job of creating a great debut album that serves to prove once again how great the Twin Cities music scene is right now, even if the band sound nothing like any of their peers.
Buffalo Moon- "Iowa's Got a New Strip Club (Cat Song)"
     -Josh Keller