Chastity Brown: High Noon Teeth Review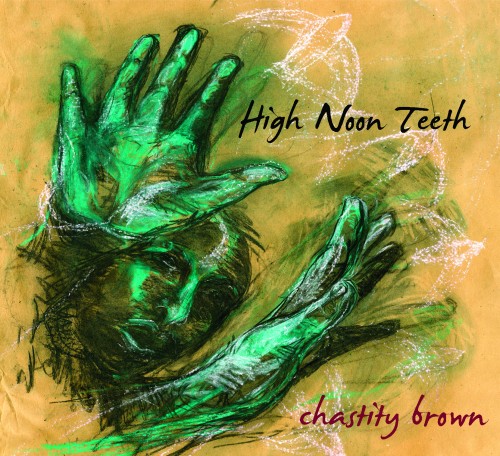 74/100
In a local scene that is known for its abundance of talented singer/songwriters, Tennessean implant Chastity Brown has quietly made a name for herself in the Twin Cities as one of our premiere assets.  With a smoky, jazz vocalist's voice and folky acoustic guitar, Brown is known for her haunting and intensely personal live shows.  Where repetition leads some singers to distance themselves from the emotional roots of their lyricism over time, to hear Brown sing is to hear her re-imagine the highs and lows of her experiences again and again, with no vivid emotion becoming dulled with age.   The intense series of catharses doesn't always resonate as vividly in a studio setting, as Brown's debut record High Noon Teeth shows, but more often than not it manages to come close.
Much like a singer warming to an audience over the space of a few songs, High Noon Teeth starts off a bit on the weak side before really starting to shine.  "Push You Away" falls a bit flat with conventional musicianship that comes off as a sort of jazz folk fusion, and it certainly doesn't contain Brown's best lyricism.  "Strong Enough" suffers a bit from the Brown detouring from her vocal range to sing both higher, and angrier than sounds natural.  "From My Old" begins the upswing though, with a catchy little piano rhythm that shines even under the minimalist production and long instrumental pauses. 
It is at the fourth track "Only This," where High Noon Teeth really begins to shine as a whole.  The eight plus minute epic delivers vivid, heartrending stories about people who exist on the margins.  The song's core concept of people as more than just a sum of their experiences demonstrates Brown's talent as a songwriter, and the emotional investment in her words comes across clearly in her confessional whisper.   The album gets even meatier with "By the Train Tracks" coming across like an old blues standard and "A Melody" packing in some interesting rhythmic shifts under Brown's Badu-esque soul singing.  "Plans of Buildin'" erases any doubt about Brown's vocal range with the highs and lows ringing perfectly over ominous drumbeats and anthemic vocal harmonizing (culminating notably in the slow-building track's torch burner finish).  In "Bound to Happen" Brown dips back into the intensely personal, singing about her mixed race family, and "Back Road Highways" finishes strong with a little electric guitar backed blues. 
Despite a tentative start, High Noon Teeth makes for an overall rewarding listen.  It would be a shame if someone never got past the first few tracks, since it's in the mid to backend where the record's highest quality musicianship is to be found.   It's in those tracks where the emotionally packed resonance of Brown's singing rings the truest, and the closest that one can get to a re-creation of her intense live shows.
     — Jon Behm
Chastity Brown's CD release show will take place on June 12th at the Cedar Cultural Center
.