Show Review: She & Him at First Avenue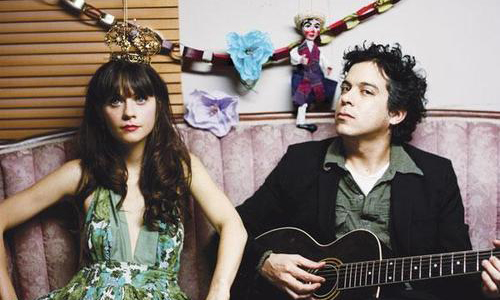 Zooey Deschanel isn't an especially good actress. Though her father has been nominated for an Academy Award (for cinematography), it's hard to imagine she ever will be. She has essentially one character. Even when donning elf ears, she is Zooey Deschanel. Yet with those doe eyes, diminutive features, and quiet smile, she has an adorable gamine quality that makes her irresistible on the silver screen. In the same way, Zooey Deschanel is not an especially good singer. She has a limited range and a sometimes flat tone, yet, when belting out 1950's AM-radio-themed country rock in cowboy boots, it's hard not to be charmed.
It doesn't hurt to have the always-excellent M. Ward playing guitar and lending backing vocals. At the same time, Ward can serve to distract. Anyone with an appreciation for his music would much rather hear him than Deschanel, so getting flashes of his brilliance, whether singing or on guitar, can leave you wishing you were at an M. Ward show. The response he got from the sold-out First Ave crowd on Saturday night confirms that many others are of the same opinion and would welcome more "Him" to the mix.
The duo played an upbeat 80 minutes, managing to cover most of She & Him volumes I & II, and threw in an M. Ward cover for good measure – "Magic Trick" from 2006's brilliant Post-War.
Los Angeles neo-hippies The Chapin Sisters provided a lackluster opening set with not-quite-harmonious songs about listening to the wind.
— JH
She & Him: Myspace