Capricorn Vertical Slum: Various Portals and Sleazo Inputs Vol.1: Tourism Review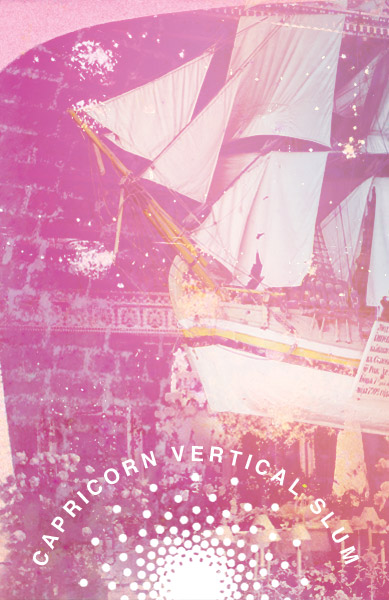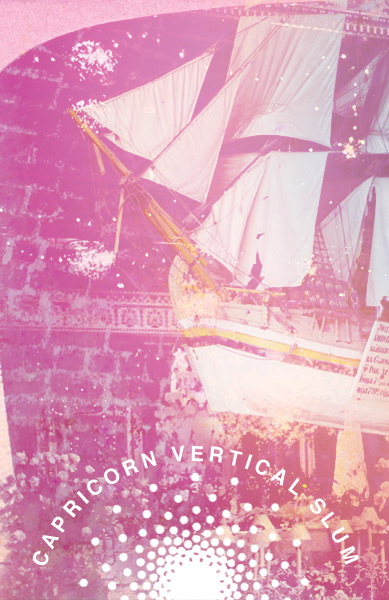 77/100 
It is always interesting to wonder whom within any given band really influences what sound. Does the bass player want the group to sound like P-Funk, is the guitarist pushing for some Coldplay, the keyboardist hoping to cover Suicide? Often times you never really know the give and take process unless one of the band members leaves the group to pursue other endeavors. This was exactly the case with Colin Johnson, who left the great Minneapolis band Vampire Hands to head to school out West, but has since begun recording music, most recently under the moniker Capricorn Vertical Slum.
Johnson's first album, the cassette only Various Portals and Sleazo Inputs Vol.1: Tourism that dropped recently on Moon Glyph, really clears up a lot of the "who did what" in Vampire Hands. The group, circa Me and You Cherry Red & Hannah and the Mansion, were one of the most innovative and rewarding bands that the Twin Cities had to offer. Their music relied on krautrock like rhythms and was the kind of just weird enough pop music that drew in many different types of fans. Since Johnson's departure, the group has slimmed to a three piece and has become decidedly more classic rock sounding. Gone are the more tribal beats that come with two drummers and in their place are a much more streamlined and more traditional sound. That was the first clue that Johnson was the one pulling the band towards the more avant garde side, and if there was any doubt, Capricorn Vertical Slum's debut tape should erase them. As you would expect from an album of this title, this is not an album for the faint of musical taste. Starting with "Desert Dreams" and continuing throughout the 10 song, 23 minute collection, there are traces of pop music, but they are buried warmly beneath layers of static, fuzz, effects and noise. Highlights include the busy but buoyant "White Legs," the charging, spaced out "The Best Cocaine in the Canyon," the classic rock on meth of "Palatial Estates in Wallpaper" and the relatively straightforward album closer, the jangly pop track Period Days."
While I still wish Vampire Hands would have continued down the awesome path they were traveling with their last few releases, I am slowly coming around to the split. When I need a classic rock fix, I can go with the new Vampire Hands, when I need a noisy, sound-collage fix, I can look to Capricorn Vertical Slum (or whatever Johnson is doing at any given time). While they sounded great meshed together, with each new release I am realising that they sound pretty great on their own, too.
Capricorn Vertical Slum – "The Best Cocaine in the Canyon"
     -Josh