Michael Yonkers: Goodby Sunball Reissue (Four Takes)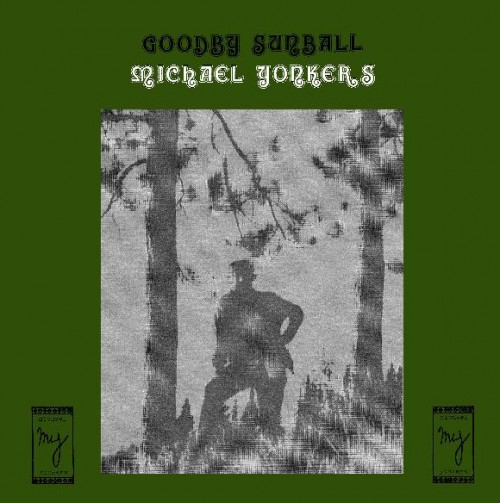 It can be difficult to gain a balanced perspective on an album after reading a single summary of the music. Bias can tilt a review, as can personal taste, history and just about everything else that is unique to the person writing it. So in an effort to offer an expanded perspective in such a medium, here are four reactions, four impressions, Four Takes on the Secret Seven reissue of Michael Yonkers' Goodby Sunball (available for pre-order here).
Mike Blaha (The Blind Shake)
Goodby Sunball is a grown man's lullaby.  It might be Michael Yonkers' softest album of his 1970's acoustic work.  Every song is in tune with nature, but in a meat-eating sort of way.  Take the song Angel of the Snow.  The whistling and harmony put you right in the Irish countryside.  It gives me this strong need to splash creek-water on my bearded face, stroll into a Dublin pub, drink a Guinness, fall in love with the owner's daughter, beat a Mick in arm wrestling, pat him on the back of his flannel shirt, poke the fire, and then disappear into the night with a smile on my face and a tear in my heart. 
It seems as if Yonkers is playing with the tape speed for that oak-tree guitar tone.  It swims in creamy tape saturation and reverb.  Some standouts include the title track, "Tell Me of Love," "Early Waking Morning," and "The Swamp of Love."  "The Swamp of Love" is bluesy, but with a positive falsetto thing going on.  The song's title sums up the vibe of the album; it is swampy and loving.  But for those of you who think Yonkers has lost his mind and gone "normal", you'll enjoy the last track, the album ending version of "Goodby Sunball."  A smart director would begin every movie with that song.  It's strange in the best sort of way.

Tom Loftus (Modern Radio)
51/100
Yonkers is a survivor.  The man was crushed by thousands of pounds of computers almost forty years ago and has been making music non-stop until only recently.  Far stronger people wouldn't have even tried to continue on but Michael used his predicament to find creative ways to play music.
I had heard the name Michael Yonkers for a numbers of years from friends in and out of town.  My first live introduction to Yonkers was through his live solo performances about six years ago and then further through collaborations with The Blind Shake.  I preferred the collaborations with The Blind Shake but I was told that I should first go backwards in his musical catalog to Microminiature Love.  From the first listen of the album, I understood why everyone constantly sang the praises of Michael Yonkers to me.  Microminiature Love, made in 1969, is a psych-rock/folk masterpiece well ahead of its time.
Goodby Sunball is a psych/folk record written while Yonkers was in the hospital from a life altering accident in 1971.  Yonkers put aside his rock tendencies on this album for a dark and introspective yet uplifting folk album.  There are some really good moments on the record including the bookend tracks of the album that are both named "Goodby Sunball" with the last track being my favorite.  "Strange and Lonely Land" is another introspective song that I have to imagine comes from lying in a hospital bed all day with ones thoughts.  I liked the poppier song "The Swamp of Love" as well but generally, the other songs on the album aren't my cup o tea.  There are a lot of traditional folk songs that sound like a chorus of singers.  I felt like it was something my parents would listen to when I was a kid but I just couldn't get in to.  The Irish folk influenced song "Anne is me Lassie" was by far my least favorite because despite being half-Irish, I really don't enjoy folk songs sung with an Irish Brogue. 
Given the circumstances, the album is a great document of a man battling with adversity to continue creating music.  I see so many people give up music (or life for that matter) for far less dramatic scenarios than Michael Yonkers dealt with.  This record should exist, if for no other reason, to give people some perspective and make you realize that you have to take what life hands you and make the best of it.

Josh Keller (Reviler)
71/100
Local garage rock kingpin Michael Yonkers burst back onto the scene when Sub Pop plucked him from obscurity by reissuing his amazing album Microminature Love. While Microminature Love was still gathering dust on a shelf, Yonkers kept himself busy in the 70's continuing recording his distinctly avant garage rock and roll in his home studio. Goodby Sunball was the next album Yonkers recorded, and while it is like Microminature Love in that it went unreleased for nearly 40 years, the similarities ended there.
While it shares the oddball, outside sensibilities of its predecessor, Goodby Sunball is much more mellow, acoustic driven affair. There are almost canticle like feeling to many of the songs (more musically than lyrically), with other songs sounding like soundtracks to a trippy fairytale. While I will say that I enjoy offball pop music, Goodby Sunball definitely isn't going to be an album that will stay in my main rotation like Microminature Love has for the last few years. The songs are further proof of a songwriter completely void of pretense or fear to try new things. Unfortunately, that experimentalism sometimes means there will be the album that doesn't quite resonate with you, and this is the Michael Yonkers album that just doesn't do it for me.

Jon Behm (Reviler)
78/100
I think in order to truly appreciate Michael Yonkers' Goodby Sunball, one must learn to listen to it with naïve ears.  Whereas music journalism generally teaches us to be tough and listen with cynicism, to listen to Yonkers' unabashed earnest folk songs with anything other than an open spirit will probably result in it falling on deaf ears.  And I'll readily admit that doing this is probably harder for me than most people (kittens and orphans find a stony wall of resistance in me).  Still, after listening to Sunball several times through something eventually hit me.  This was a guy who had recently been crushed nearly to death, an accident he would never fully recover from, and yet from his songs you would think that the most pressing problem he has in the world was being head over heels in love.  I mean songs like "Angel of the Snow," "Morning of Love," and "Someone Like You" are love poems of the most over-the-top sincerity.  Usually this would have me rolling my eyes but in Yonkers case I find it curiously appealing.  And while the folk music is of the retro variety that was famously parodied in A Mighty Wind, Yonkers throws in a little nuance still to keep it interesting. The dreaminess of "The Day of Jubilee" shows hints of his psychedelic roots and the two versions of "Goodbye Sunball" display a talent for sonic experimentation (the latter version reminding me of a Mark Tucker song).  Yeah, some of the material here is a little much ("Annie is me Lassie" is a bit on the corny side) but overall I have to say that I like it.  Dropping all cynical pretense, Goodby Sunball occasionally moves me in the way that only some of the sweetest love songs can. 
Pre-order your copy of Goodby Sunball from Secret Seven Records here.