Feathe: Tithing to God in the Milkweed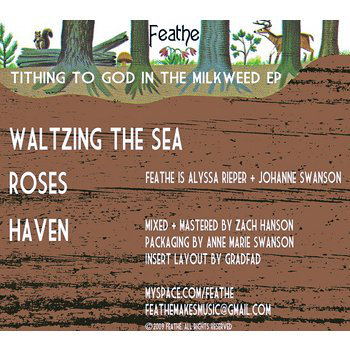 70/100
Basking in the warm glow of my recently re-ignited love for female vocal harmonies (Thanks  Mountain Man!) I stumbled across Eau Claire trio Feathe (rhymes with "breathe").  The young ladies of Feathe sing quaint, folky melodies, usually set to the tune of acoustic chords so simple that even I could play them.  Feathe's debut EP Tithing to God in the Milkweed (available for "pay what you can" here) is a promising work, even by Eau Claire standards (they seem to pump out musically inclined people there on a regular basis).
Tithing contains three original songs, starting with "Waltzing the Sea," a two part vocal harmony set to guitar 101 chords and as a nice added touch, accordion.  As made obvious by the title, "Waltzing" contains nautically themed lyricism that ranges from intriguing ("I am their solitaire slave") to trite ("The light you say will come / lost in this nautical song").  Even when the lyricism fails though Alyssa Riper's and Johanne Swanson's (and sometimes Adelyn Strei's) elegant, if unpolished voices tend to hold the song's weight.
"Roses" presents the ladies singing almost completely a capella to start, before the melody is fleshed out with a minimal xylophone and guitar parts.  With very little instrumentation to distract, the listener is drawn again to the vocals, a wise move since that is their main strength.  "Haven" puts the accordion part more in the forefront, giving the tune a slow, dirge-like quality, but Rieper and Swanson's voices are still effective when they appear, lending weight to the song's mournful tone.
Overall it appears that Feathe still have some room for improvement ahead of them – but as far as demos go the three tunes off of Tithing show a great deal of promise.  If they are anything like their Eau Claire comrades (Peter Wolf Crier, The Daredevil Christopher Wright, Bon Iver) I wouldn't be at all surprised if they were a band to watch in the near future.
— Jon Behm
Feathe will next visit the Twin Cities on August 6th for a performance duringthe Uptown Art Fair at the Infinitea Tea House.
Feathe:          Myspace