Haunted House: Lesh is More Review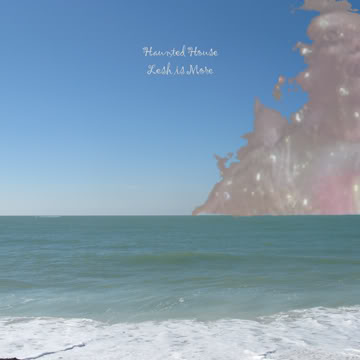 83/100
For some reason the sound of tinkling ivories is not the first thing that comes to mind when you think of outsider pop music.  Guitars, synths, violins, violas, homemade musical gadget, hell,  even keyboards as background instruments, yes, but front and center?  This unique choice of musical arranging helps to separate local group Haunted House from other bands creating similar music and allows them to be one of the most consistently rewarding bands in the local scene. Following up last year's solid, if under appreciated, Guess Who is Coming to Dinner, the group is back again with their latest LP Lesh is More (yes, it is in honor of the Grateful Dead bassist).
If the songs on Lesh are More sound like companion pieces to Guess Who is Coming to Dinner, it is because they are.  The albums were recorded around the same time in 2008 (along with the album Ravage through the Bum's Hair") and show that Haunted House (led by lead singer/keyboardist Matt Watton) lacks any problems creating for both quantity and quality.  Like Guess Who is Coming to Dinner, Lesh is More sounds like a whacked out pop dream centered around Watton's propulsive keys and disjointed vocals. The album seems to be both expansive and wide eyed while maintaining a stifling, claustrophobic feel. Starting with the driving "stairway to the airplane" and continuing throughout the 10 song album, the tracks on Lesh is More are melodic and poppy in the same way that Captain Beefheart was (minus the delta blues).  Namely they are not for the huddled masses and could possibly scare children, but for those of us who like their pop music a little bit outside the box these are downright anthemic.  From the spaced out "hypnotize the girl in the yellow coat," which is like a movie soundtrack on acid with tounge tied vocals to the almost circus pop of "The Devil," no weirdo pop stone is unturned on this ambitious album.
Lesh is More is an album that is harder to describe than it is to enjoy.  In a day and age when it seems like more people write crappy pop songs for diaper commercials than actually try to write engaging and challenging music, Haunted House is one of the many great bands in the Minneapolis scene that help keep my faith in new music. 
     -Josh