Lazerbeak: Legend Recognize Legend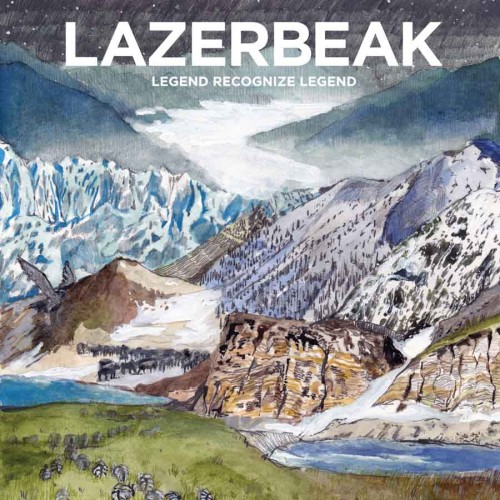 (Guest review co-published in partnership with Potholes in My Blog)
94/100
Straddling two sides of a spectrum is hard. Ask Aaron Mader, aka Lazerbeak of Doomtree.  On the one hand, he is a part of The Plastic Constellations, and if you heard his work on the groups albums such as Crusades, or We Appreciate You, you've heard the sounds; dueling guitars letting every which way but loose, apocalyptic drum change-ups, the albums are pretty much like rock rollercoaster rides, only replace the tracks on said roller coasters with numerous twists and turns, hills that are thrilling and don't let up.  Then on the other hand, you have his alter-ego, Lazerbeak of the famed Doomtree crew, making numerous waves in the rap world.  Make no mistake the two are similar in structure, those same drums exist in his hip-hop production, and the numerous drum rolls, while reduced, are still potent for the change-ups he creates in his beats.  So aside from that, you probably have just received your pre-order/order for Legend Recognize Legend, his first solo effort.  All this reviewed can provide is one word: Surprised?
If you're a hip-hop head to the core who's into Doomtree, expect the same complexities and intricacies that you hear everyday from Lazerbeak and his self-described "bangers".  The melodies are much more lush, and sound very much more polished, which makes for a perfect contrast to the complex, harsh drums added throughout the album.  Listen to the sounds on "Cannon Falls" as the 808s and 80s keyboards surround the composition, decked with handclaps to boot, followed by the slow, melodic build of "Pearly Gates," while the hustle and bustle of "Land's End" where pianos merge with a well syncopated rhythm to sound like the introduction to apocalypse, while the vocals sing kindly to "awake, and wait and see…"
If you came into this project being aware of Aaron Mader of TPC, then don't let the overtones fool you, this is very much a dark pop record at heart, that underlines a similar lyrical structure and breakdowns galore as if it were a Plastic Constellations record.  However, don't let that fool you: the lack of guitar might say otherwise, but its melodies are still there at the heart of Legend Recognize Legend. It really displays Lazerbeak's intentions to really enforce something different with this record, melodically and structurally speaking. Many might draw comparisons of Legend Recognize Legend to RJD2's Since We Last Spoke, but more or less in drawing that comparison, Legend is a tighter, more focused record, that is sonically well balanced regardless of the elements used.  The usage of drums are intentionally brash, epic at times, but they also know when to go low and build a foundation, the melodies get more intricate the more the songs progress. 
At the end of the day, Legend Recognize Legend plays a role in which the TPC bandmember and Lazerbeak sit at a meeting table.  One does not try to one-up its predecessor's moves, rather it plays as a meeting of the minds, and lets the chips fall where they may.  This is what gives Legend Recognize Legend its title.  No one personality wins, its more of a win-win on both sides.  Hopefully Lazerbeak's next endeavors are as equally entertaining.
     — Ali Elabbady (AKA Egypto Knuckles, Background Noise Crew)
Lazerbeak:          Myspace
.