Parenthetical Girls: Young Throats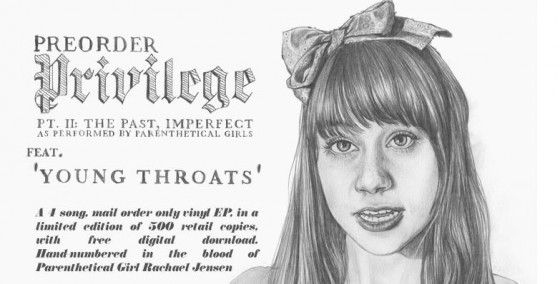 Portland's Parenthetical Girls just released the second of the five EP's that will eventually form their new full length record Privilege.  Last time around they offered up "Evelyn McHale." This time it is "Young Throats," a manic- sounding array of synths and angsty vocals that buzzes by in a quick seeming four minutes.  It reminds me of Talking Heads styled new wave mixed with an Arcade Fire level of bombast and self importance.   
If you order the new 12" now you can allegedly get a copy hand numbered in Parenthetical Girl Rachel Jenson's blood, which I still haven't decided if I think is very cool or very creepy (the EP's artwork inclines me towards the latter).   But if you are into it, get your limited edition copy here.  
     — Jon Behm
Parenthetical Girls – Young Throats
Parenthetical Girls:          Site
.