Live Review: Caribou at First Avenue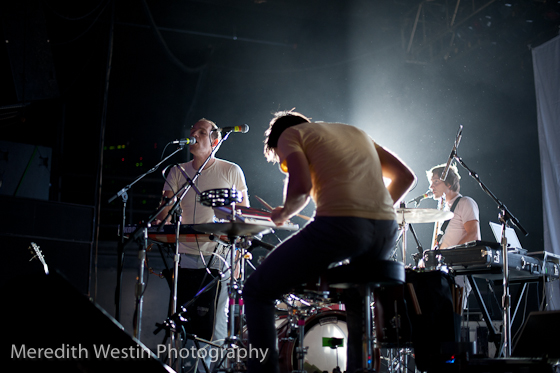 Like fellow 60's AM pop influenced electro popsters Cut Copy, Caribou bring a decidedly dancy tinge to their music, especially in the live setting. The biggest difference I saw from the two great groups was Caribou's desire to stretch songs out, turning their songs into electro funk, spaced out jams. The four piece group (frontman Dan Snaith backed by a powerful three piece featuring bass, drums and guitar) played an engaging, 70 minute set Monday night to a midsized crowd at First Avenue that highlighted, and expanded upon, the groups great set of songs.
The set seemed focused around finding a spaced out groove that Snaith and company were looking for. Snaith left his trademark red SG sitting idle most of the night, taking turns on the keyboards and joining in the drums during one of the many instrumental interludes. These dreamy soundscapes were not surprising, especially considering the groups latest release is the 15 person, live extended jam from last years ATP titled Caribou Vibration Ensemble. The record, which is a tour only vinyl release that has 8 songs and features the group jamming with Marshall Allen from Sun Ra, amongst other guests, highlights the band at their tight but jammy best. The two moments Monday night where the songs seemed to be more of the connection point than the rhythm were the bands two most recognizable songs, "Melody Day" from their last album and "Odessa" from Swim, which was the nights set closer before a one song encore.
It was cool seeing the 4 piece band set up on stage, all facing towards the center as they worked towards their funky, electro nirvana. Each member clearly was feeling the groove just as strongly as the crowd ( at times even more so it seemed, especially for the rather mundane Monday night crowd), and produced a great set. While some bands who noodle in sonic experimentation's can lose the audience, Caribou found the right mix that kept the crowd moving and never made it feel forced. Based on both the show Monday night and the groups excellent new record, Caribou should rightfully be known now not just for their sonically adventurous pop records, but also their manic and wild live shows as well.
     -Josh